foto: Gustav Adolf Mossa, Pierrot s'en va, 1906
"Che fai tu, luna, in ciel? dimmi, che fai, Silenziosa luna?"
G. Leopardi
Pierrot è il personaggio che nella Commedia dell'Arte porta la maschera della malinconia. Innamorato e triste, una lacrima si è cristallizzata sul suo viso. I suoi gesti sono meccanici, è affine ai gatti, alle lepri, ai pavoni bianchi ed è devoto alla luna. Il suo amore è muto e per questo a volte suona il violino. Non è corrisposto ed è condannato al suicidio.
In vista del lavoro che ho realizzato per Merola, ho trovato interessante seguire l'evoluzione del tipo del Pierrot a partire dal 1880 per un secolo, fino al 1980. Si nota come il Pierrot sia stato di moda nelle arti e nel gusto di fine secolo fino agli anni '20, per via probabilmente di quella eleganza malinconica, la bellezza che nasconde il presentimento di morte.
Ho trovato due saggi che parlano della figura del Pierrot che però non ho potuto leggere: Pierrot fin-de-siècle, ou, Les métamorphoses d'un masque di Jean de Palacio che però è solo in francese e Anatomia del vuoto: Pierrot, uscito nel 2008 nella rivista Locus Solus, che però è a quanto pare impossibile da trovare.
More&constantly updating : visit my pinterest board Pierrot
Illustrations:
Charles Lucien Léandre, Pierrot et Colombine, 1899
Raphael Kirchner, Salome, 1903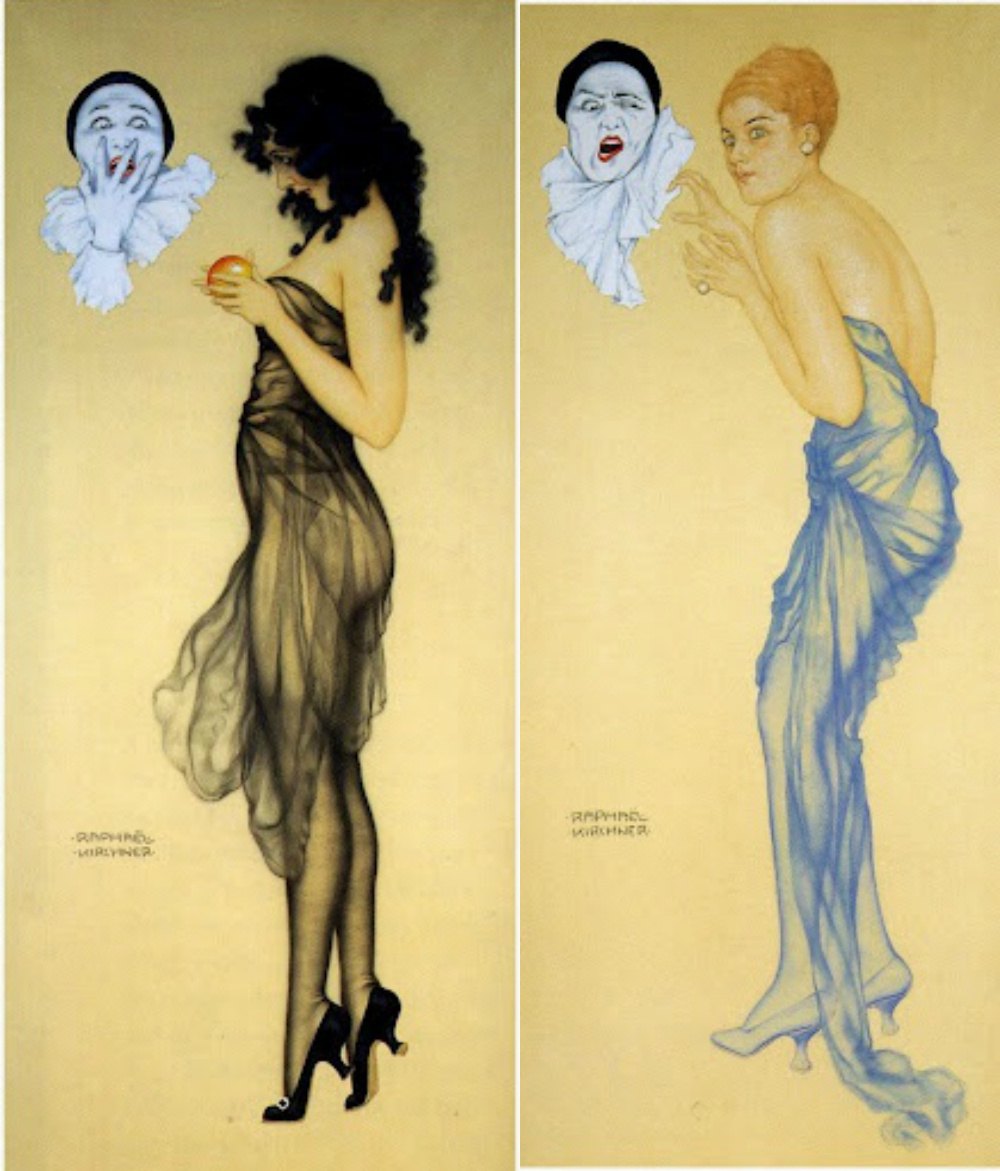 Raphael Kirchner, Series of The Deadly Sins: Temptation, Anger
Raphael Kirchner: Lust; Sloth
Raphael Kirchner: Gluttony,
Gustav-Adolf Mossa, title? ca.1910
Leo Rauth, Pierrot and Colombine, 1911
 Leo Rauth: Bal Masque, 1911; Schwibs', 1911
Leo Rauth, Ein gern gesehener, 1912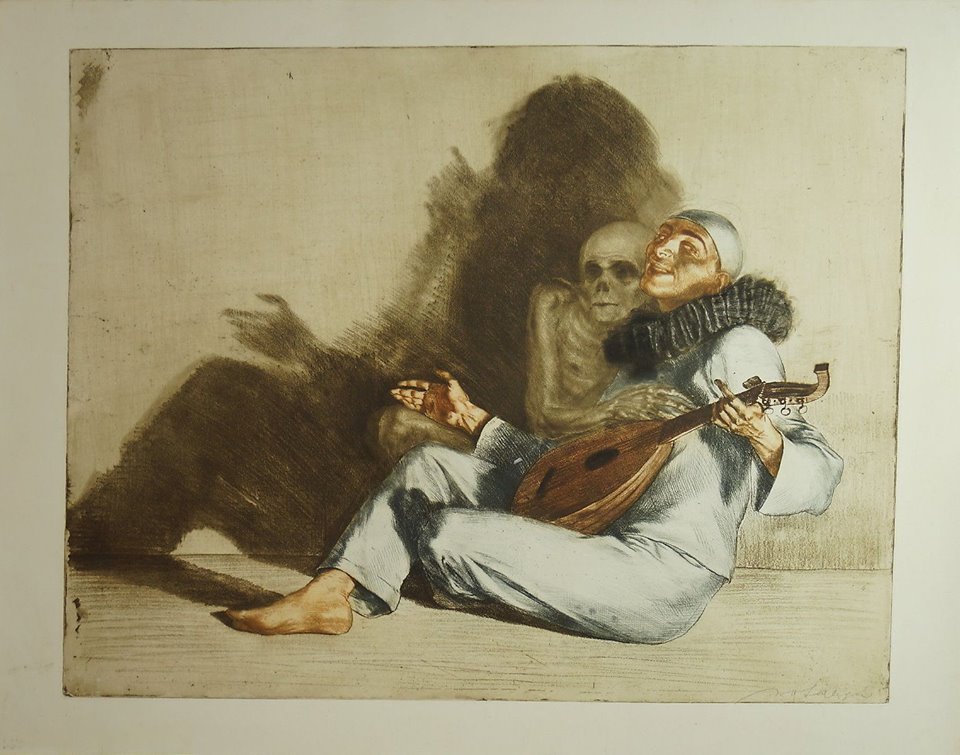 Ivo Saliger, Pierrot, 1920 ca., acquaforte a colori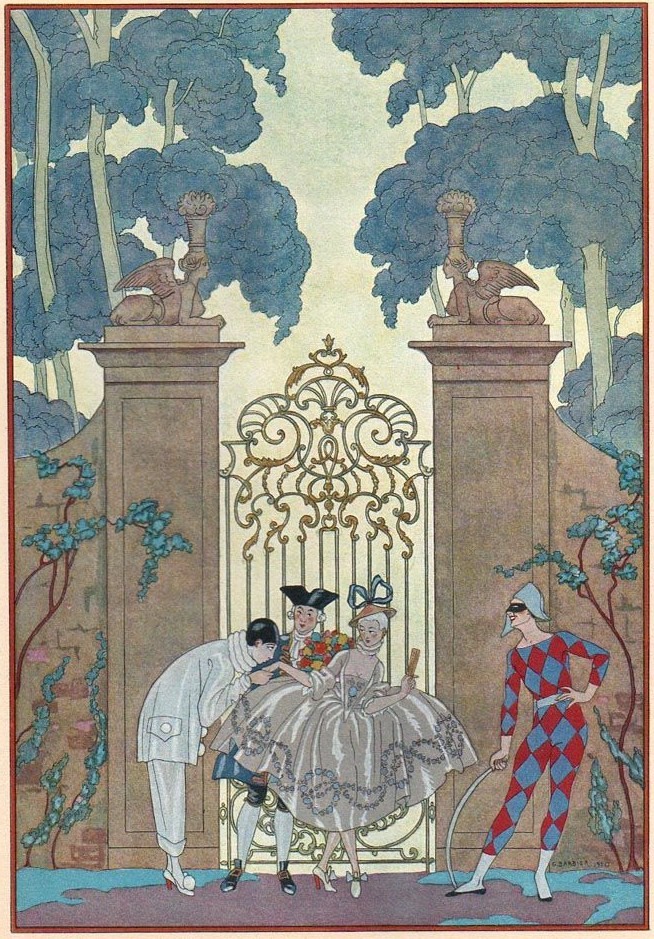 Georges Barbier, Fetes Galantes (Columbine), 1928
Lucien Jaquelux, Pierrot & Colombine, 1930
 Adolfo Busi, Woman with a kneeling Pierrot, 1926
Adolfo Busi, Woman and Pierrot, 1925 (gonnelli.it)
The death of Pierrot, Jeanne Mammen 1920's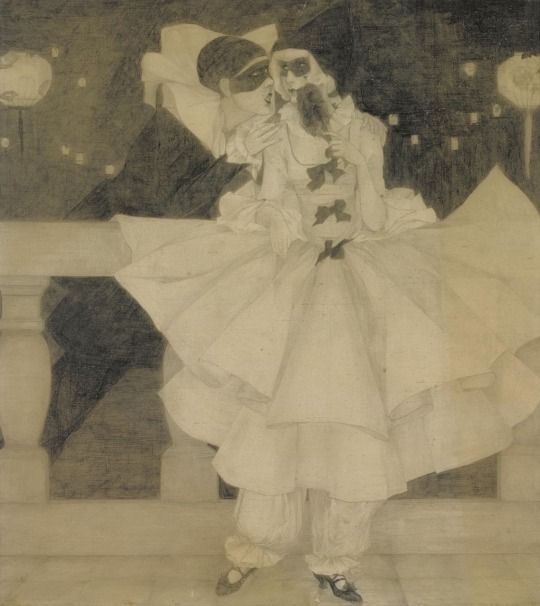 Rie Cramer, Pierrot and Pierrette, 1920's ?
Charles Lucien Léandre, Pierrot Pendu 1936; Edwin Holgate, Pierrot pendu 1923
Erté, Dancing in the Dark, 1920's ?
Francesco Nonni, Pierrot con contrabbasso 1924 (gonnelli.it)
Georges Barbier, Fetes Galantes 1928 ?
Aubrey Vincent Beardsley: Pierrot clown selecting books in a library, 1896: Pierrot
Franz von Bayros, Ex-libris Peter Gloeck 1924
Ephemeral (puppets, objects): 
Perfume bottle "Pierrot by Paul Poiret": launched in 1914. Using the colors of the character of the commedia dell'arte, Pierrot from a black cap-hat and a white collar (referring to the first activity Poiret seam). Starry black box shows the song "Au clair de la lune" dedicated to Lully.
James Ensor, Mask 1910-20?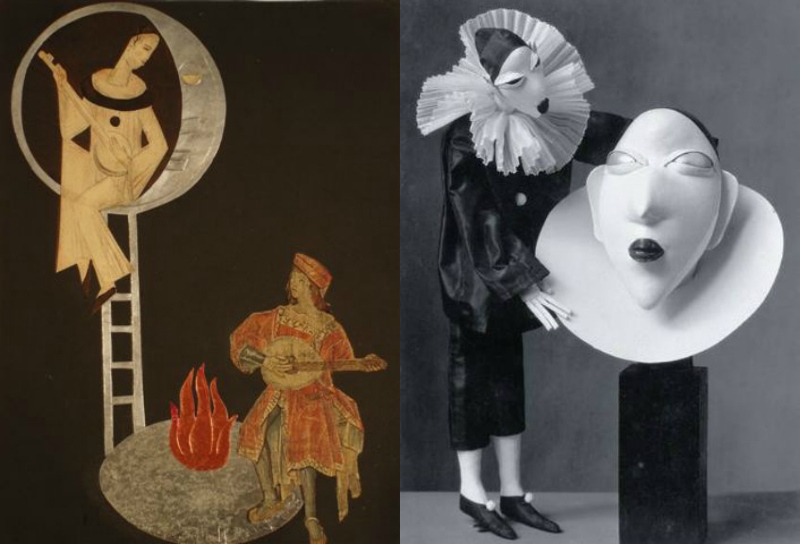 Marie Vassilieff: Pierrot, 1933; Pierrot dolls, 1927
Pierrot and Pierrette, dolls made by Lenci, 1925, designed by Marcello Dudovich (1878-1962), Italy, 20th century
Posters, cards, advertisings, covers: 
Vanity Fair cover, 1918
Vanity Fair cover, 1920
Vanity Fair cover, 1927
Posters for Pagliacci, opera by Ruggero Leoncavallo 1892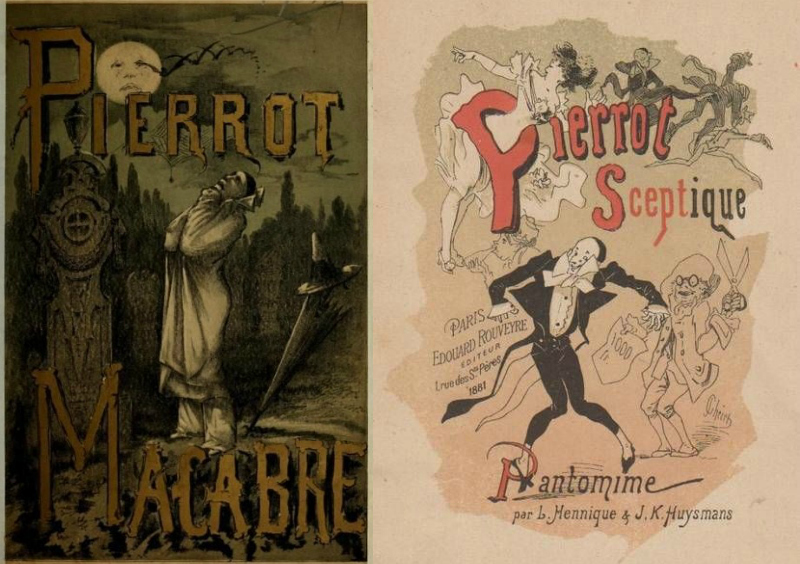 LEFT: Illustration for Pierrot macabre; ballet-pantomine en un acte et deux tableaux. Scénario de Th. Hannon et J. Hansen. Date 1890.
RIGHT:Poster for the pantomime "Pierrot sceptique" by Léon Hennique and Joris-Karl Huysmans. Date 1881.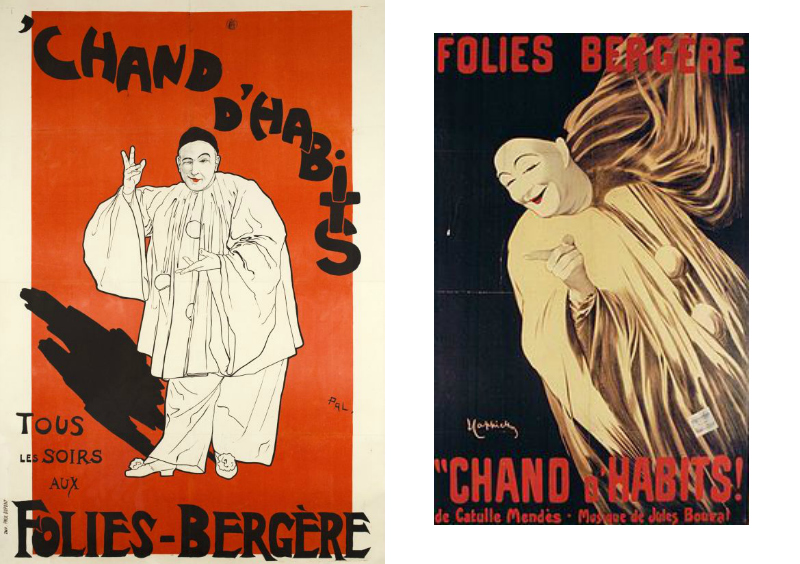 Posters for Folies Bergère: by Pal. and Leonetto Cappiello, Chand d'habits!, 1896
Masquerede Ball invitation, 1930's ?
Postcard by Leonetto Cappiello for Robba, Canelli Torino (Sparkling Wine Drink) 1890's ?
Asta Nielsen as Pierrot in Urban Gad's Behind Comedy's Mask (1913). Poster by Ernst Deutsch-Dryden.
Hedy Nils and Toni Burkmeyer ball, 1920;
Fasching Dienstag Redoute in allen Sälen der Neuen Burg Gesellschaft für graphische Industrie, Wien 1922.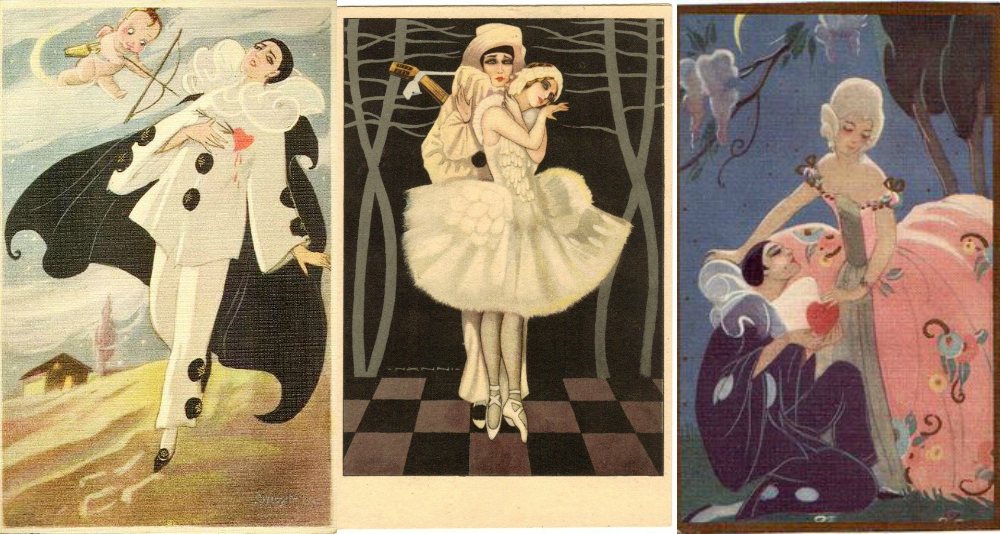 italian popular postcards from 20's and 30's
Paintings:
Giuseppe De Nittis, Sarah Bernhardt as Pierrot, 1890's ?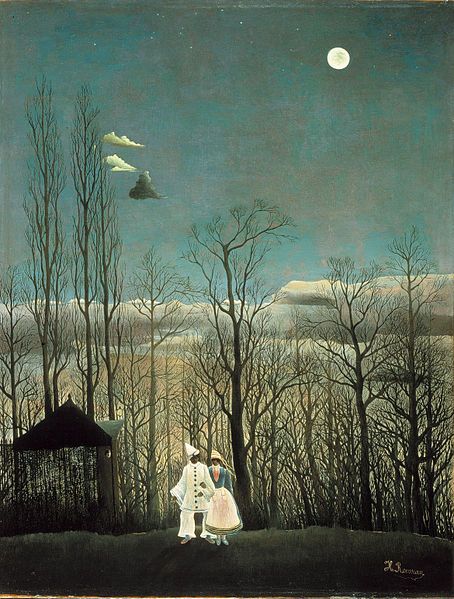 Henri Rousseau, A Carnival Evening, 1886
Maxfield Parrish, The Lantern Bearers Painting, 1908
James Ensor, Pierrot and Skeletons, 1907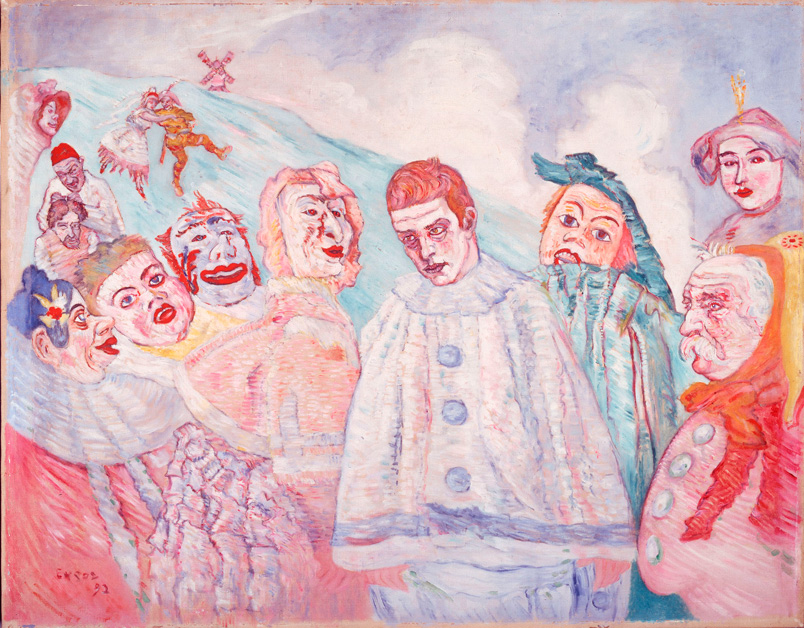 James Ensor, The Despair of Pierrot or Pierrot in Despair (second version) 1910
Federico Beltrán Masses, Pierrot patient 1929
Alexander Evgenyevich Yakovlev, Pierrot & Arlechine, 1914
Photographers, performers, film, singers:
Paul Legrand as Pierrot the clown by Nadar. Date circa 1855
Henri de Toulouse-Lautrec  as Pierrot, 1894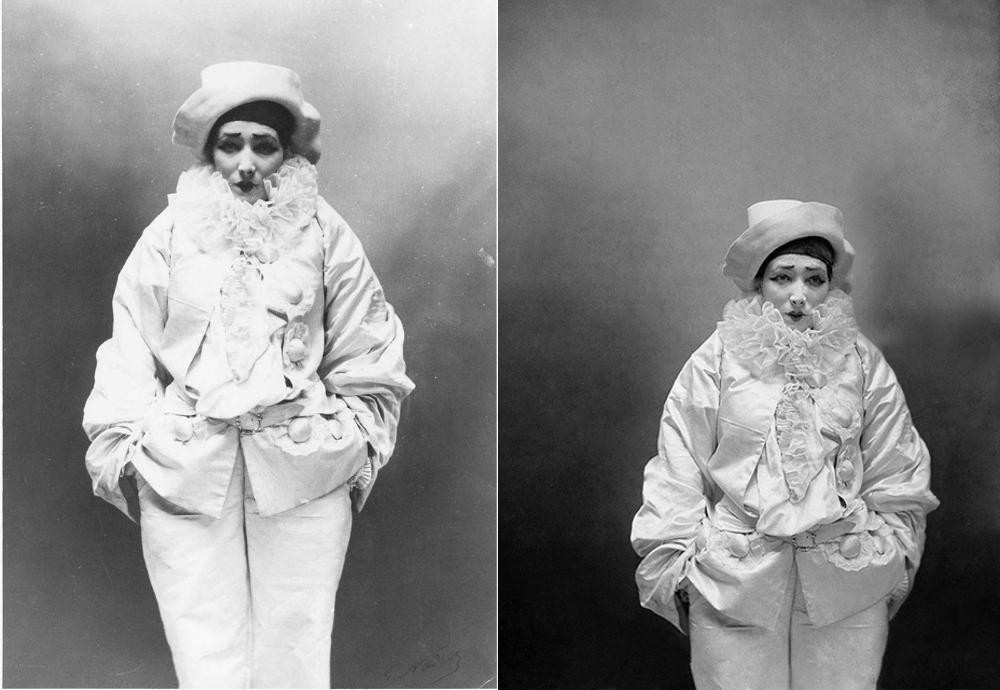 Sarah Bernhardt by Nadar as Pierrot in Jean Richepin's "Pierrot the Murderer" Date 1883
Diana Karenne, actress and director of her own films, by Emilio Sommariva, 1917-1918
Diana Karenne in Histoire d'un Pierrot, 1917
Diana Karenne in Histoire d'un Pierrot, 1917
Diana Karenne by Emilio Sommariva, 1917-1918
Alexander Vertinsky, 1916
Alexander Vertinsky, 1916
Marchesa Luisa Casati as Pierrot in a painting by Guiglio de Blaas, 1913
Cecil Beaton, self-portrait as pierrot, c. 1920.
Greta Garbo by Cecil Beaton, 1946
Claude Cahun, Self-Portrait, 1927
Clara Bow as Pierrette, 1929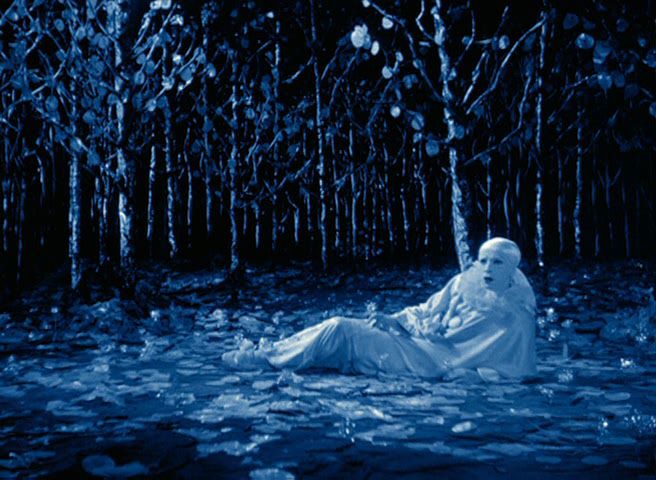 Rabbit's Moon, avant-garde short film by American filmmaker Kenneth Anger. Filmed in 1950
Pierrots, Serge Lutens for Dior, 1975.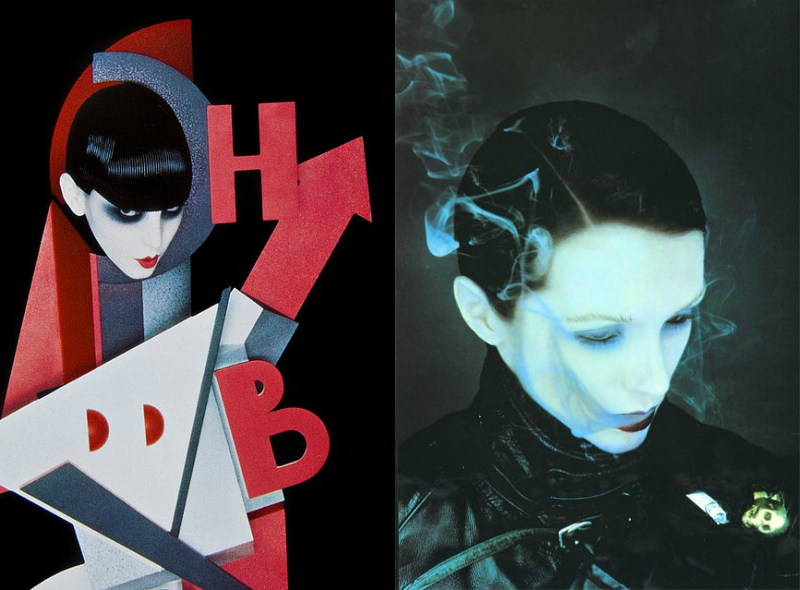 Serge Lutens for Serge Lutens advertising. He was a French photographer, filmmaker, hair stylist, perfume art-director and fashion designer.
Charlotte Rampling starring in Liliana Cavani's film "The Night Porter", 1974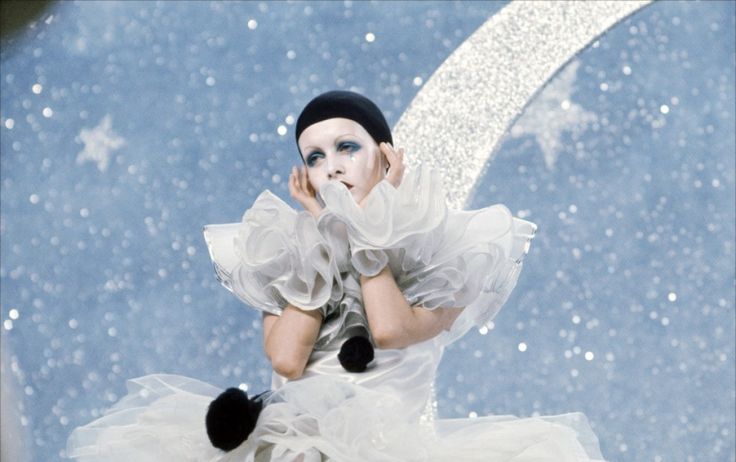 Twiggy in The Boyfriend, film by Ken Russell, 1971
David Bowie for Ashes to Ashes music video, 1980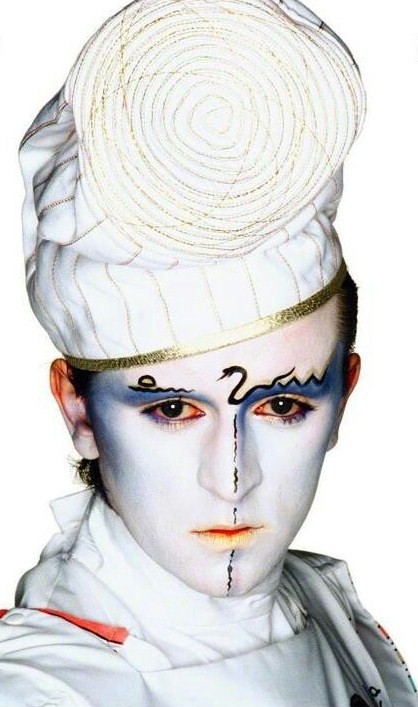 Steve Strange, 1980's
Klaus Nomi, 1980's
Le Pustra, 2014
Le Pustra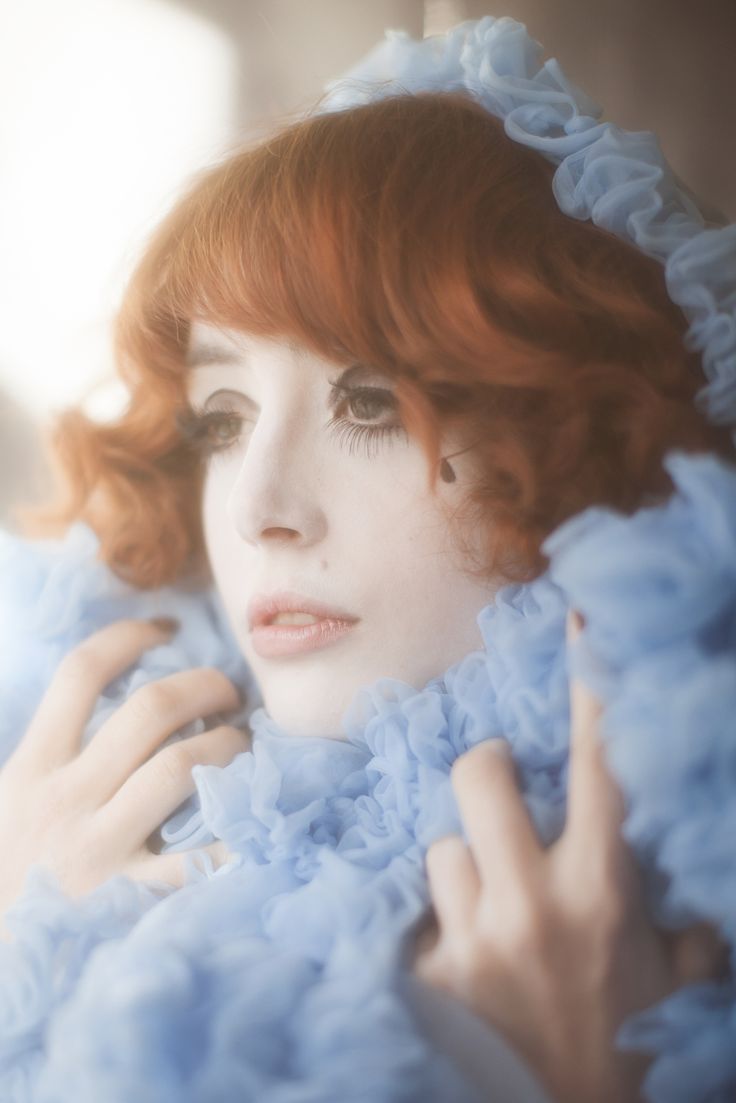 Louise Ebel aka Miss Pandora, 2013
Fashion (editorials, designers):
Mariacarla Boscono by Vincent Peters
Tilda Swinton "Traveling with The Night Circus"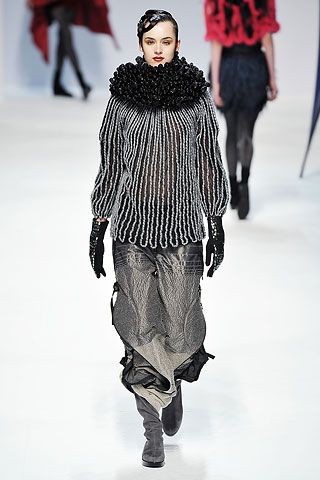 Issey Miyake AW 2010
Galliano
 make up (Galliano)
Comme des Garçons Fall / Winter 2000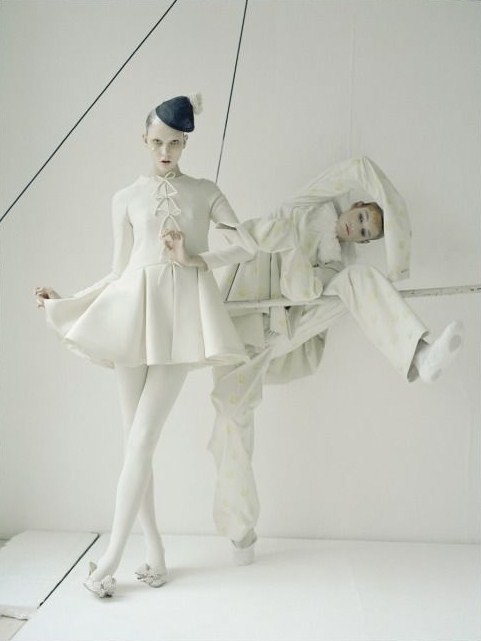 Editorial by Tim Walker
Editorial by Tim Walker
Editorial by Tim Walker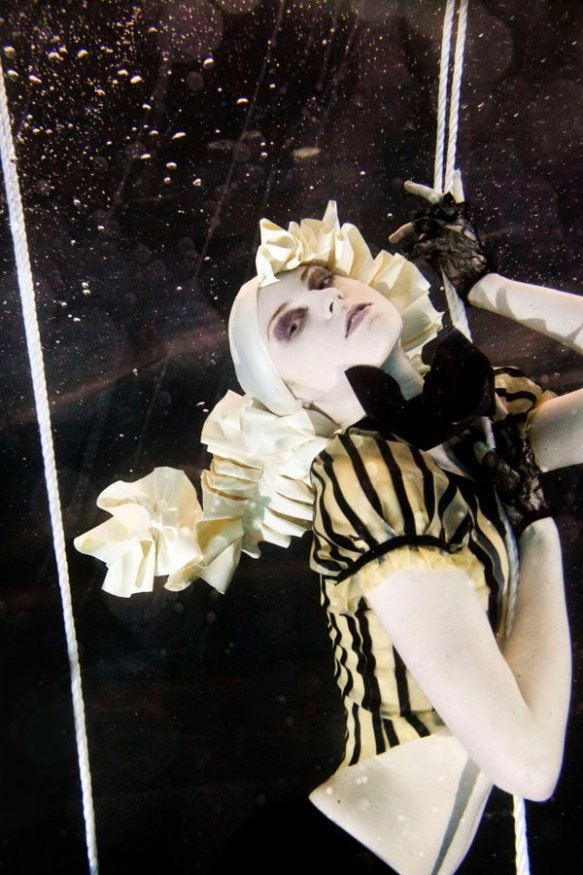 Editorial by Tim Walker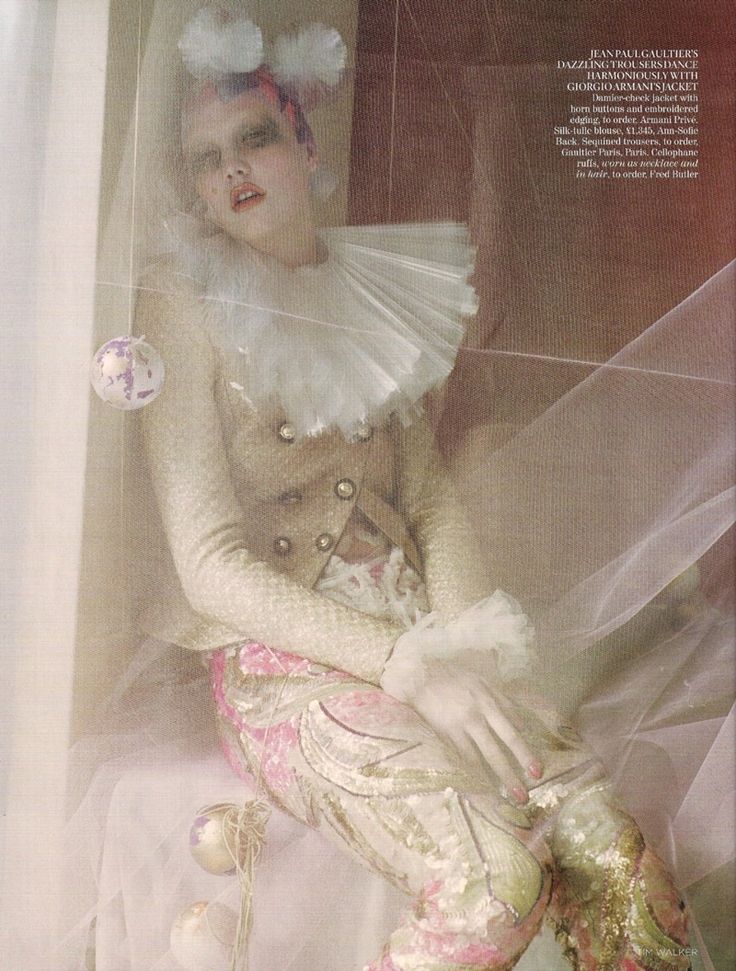 Editorial by Tim Walker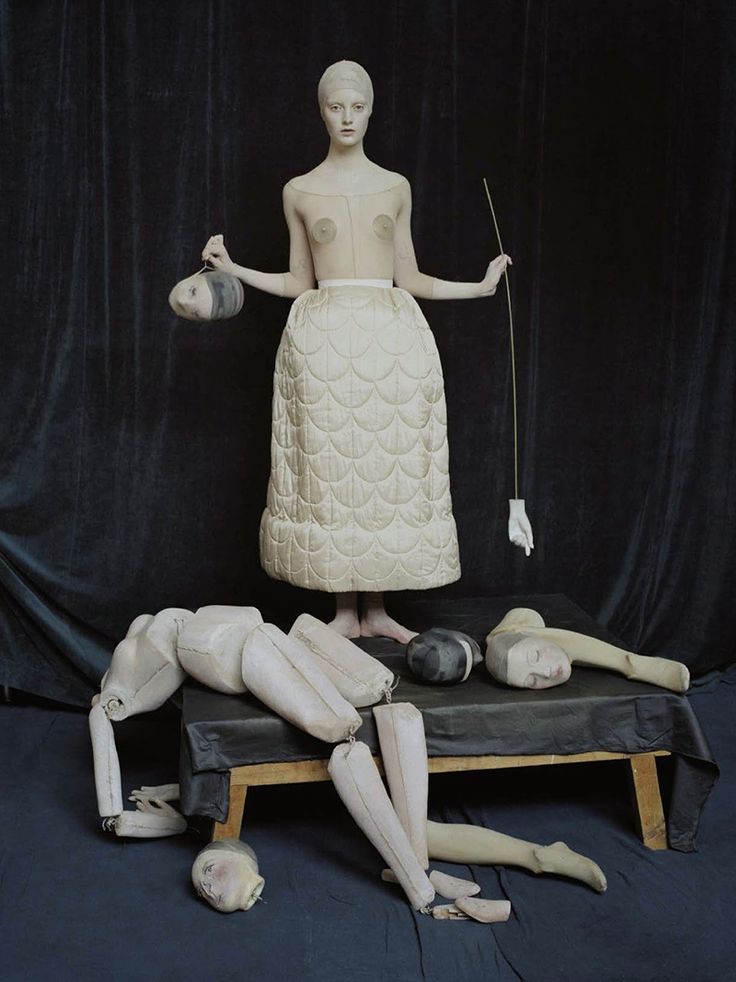 Andrew Yee For How To Spend It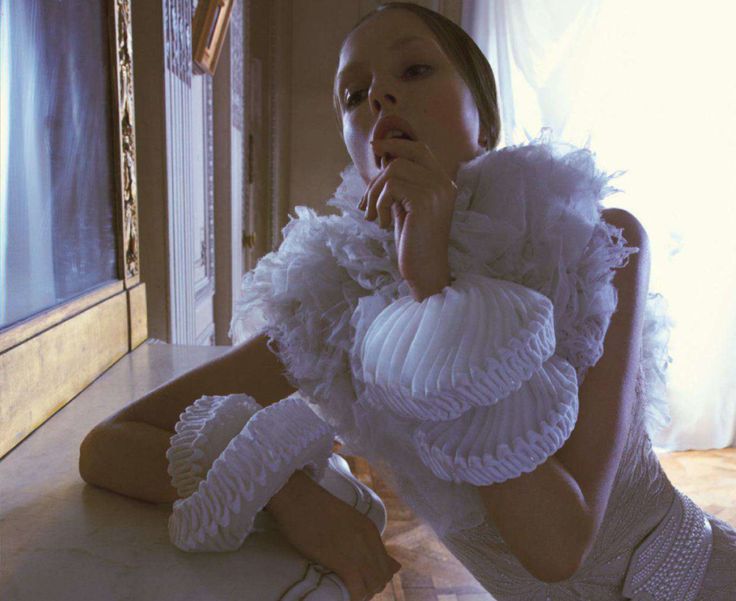 Vogue Japan November 2013, Fun To Be a Princess Nadja Bender by Camilla Åkrans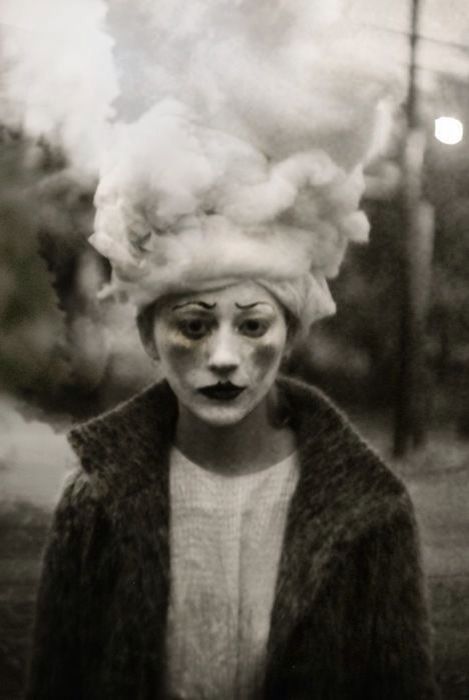 ?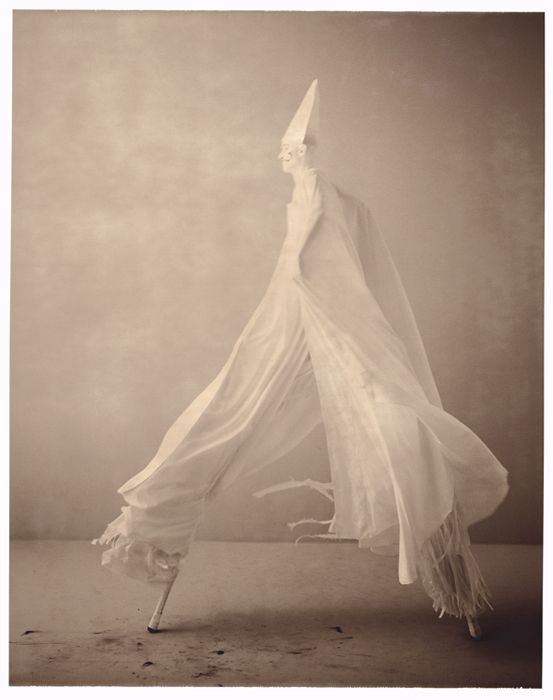 ?
Lovechild Boudoir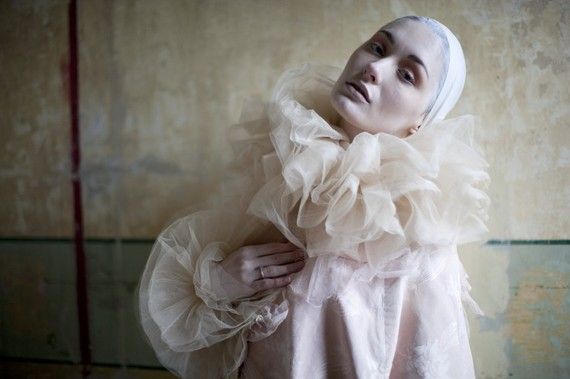 Issue Aganovich & The Colour of Opium by Erik Madigan Heck – Cover