foto: Arnold Bocklin, Medusa 1878
"Di notte circonfusa,
Di spavento ripiena,
Gorgo vota d'amor, muta sirena,
O Medusa, o Medusa!"
Medusa, Arturo Graf
Dopo l'iconografia dedicata al Pierrot, si riflette oggi sulla Bellezza Medusea, titolo del primo capitolo del famoso libro di Mario Praz "La carne, la morte e il diavolo". E' giustamente posto all'inizio di un libro dedicato all'analisi della letteratura romantica la definizione di ciò che è Bello per i romantici.
Il Bello classicamente inteso, definito in base all'adesione di regole di perfezione formale, aveva delineato il credo creativo del Neoclassicismo. L'arte come tale esprime dunque anche ciò che è buono, ciò che è moralmente giusto, ripristinando così il principio della kalokagathìa greca. Ma questo tipo di Bello perfetto ad un certo punto non sembra più essere sufficiente, nelle arti come in letteratura, per esprimere la perfezione estetica. Perché?
Il nuovo sentire romantico
Troviamo segnali di un nuovo tipo di sentire nei primi poeti romantici (già in Goethe in realtà) e Praz ricorda come "nessun quadro fece impressione più profonda sull'animo di Shelley della Medusa, un tempo attribuita a Leonardo, che egli vide a Firenze verso la fine del 1819". La descriverà dicendo "tis the tempestuous loveliness of terror". In quel volto livido di morte, circondato da vipere e animali schifosi, Shelley riesce a vedere un certo tipo di bellezza. Come lui anche altri romantici, né la scoperta dell'orrore come fonte di bellezza fu prerogativa del secolo XIX, come Praz giustamente fa notare citando Torquato Tasso o alcuni drammaturghi elisabettiani. Non è un caso che la prima Medusa dipinta per come è e non nel quadro di una vicenda mitologica, fu Caravaggio, il genio che traghettò la pittura moderna al seicento. Ma ciò che nel seicento fu concetto, nei romantici diventa sensibilità.
Bello è corruzione
E poiché il decadentismo altro non è che uno svolgimento del romanticismo, è Charles Baudelaire che teorizza questo nuovo tipo di bellezza e dopo di lui nessuno potrà intendere il bello in altro modo. E' lui che definisce il Bello moderno. E' lui che dice che nel bello ci deve essere anche qualcosa di non eterno, di contingente e come tale destinato a perire, corruttibile:
"Il bello è fatto di un elemento eterno, invariabile, la cui quantità è oltremodo difficile da determinare, e di un elemento relativo, occasionale, che sarà, se si preferisce, volta a volta o contemporaneamente, l'epoca, la moda, la morale, la passione. Senza questo secondo elemento, che è come l'involucro dilettoso, pruriginoso, stimolante del dolce divino, il primo elemento sarebbe indigeribile, non degustabile, inadatto e improprio alla natura umana. Sfido chiunque a scovarmi un esemplare qualsiasi di bellezza dove non siano contenuti i due elementi". Il Bello è quindi, anche corruzione. Non è più possibile affidarsi ad un bello eterno e sicuro, l'uomo moderno non ce la fa, non lo capisce.
Bello è ciò che è triste
Ma Baudelaire va oltre, non vede nel brutto solo un deviare dalle norme imposte dal canone, in lui non c'è alcun animo di ribellione, questa sì propriamente romantica, lui cerca il brutto perché è lì che c'è la novità. In un mondo in cui "tout est bu, tout est mangé! Plus rien à dire!" l'unica possibilità per trovare ancora la spontaneità, la novità generatrice di stupore primigenio è, paradossalmente, vedere dove non si era mai visto, nel cono d'ombra "Plonger au fond du gouffre, Enfer ou Ciel, qu'importe? Au fond de l'Inconnu pour trouver du nouveau!"
La teoria di Baudelaire è così potente da tracciare l'ideale di Bellezza che regna fino ad oggi, se ancora di Bellezza si può parlare, la Bellezza fatta di mistero dicendo che "Le mystère, le regret sont aussi des caractères du Beau". Tanto che arriva ad escludere l'esistenza di un Bello felice "Je ne pretends pas que la Joie ne puisse pas s'associer avec la Beauté mais je dis que la Joie en est un des ornement les plus vulgaires". Ciò che è Bello non può che essere triste.
Chiudo citando un passo dei Diari Intimi di Baudelaire in cui descrive una testa femminile, una testa che potremmo a tutti gli effetti immaginare medusea:
"Ho trovato la definizione del Bello, – del mio Bello. È qualcosa d'ardente e di triste, qualcosa un po' vago, che lascia corso alla congettura. Andrò ad applicare, se si vuole, le mie idee a un oggetto sensibile, all'oggetto, per esempio, il più interessante nella società, a un viso di donna. Una testa seducente e bella, una testa di femmina, voglio dire, è una testa che fa sognare in una volta, – ma in maniera confusa, – di voluttà e di tristezza; che presuppone un'idea di malinconia, di fiacchezza, persino di sazietà, – ma pure un'idea contraria, ossia un ardore, un desiderio di vivere, associato a un'amarezza rifluente, come provenisse da una privazione o da una disperazione. Il mistero, il rimpianto sono ugualmente caratteri del Bello.
Una bella testa d'uomo […] conterrà in sé qualcosa d'ardente e di triste, – dei bisogni spirituali, delle ambizioni tenebrosamente rimosse, – l'idea di una possanza che ringhia, e senza impiego, – talvolta l'idea di una insensibilità vendicatrice, (giacché il tipo ideale del Dandy non è da trascurare a questo proposito), – talvolta anche, – ed è uno dei caratteri della bellezza più interessanti, – il mistero, e infine (purché io abbia il coraggio di confessare fino a che punto io mi sento moderno in estetica), l'infelicità. – Io non pretendo che la Gioia non possa associarsi con la Bellezza, ma dico che la Gioia [ne] è uno degli ornamenti più volgari; – mentre la Melanconia ne è per così dire l'illustre compagna, al punto che io non concepisco affatto (il mio cervello sarebbe uno specchio stregato?) un tipo di Bellezza in cui non vi sia dell'Infelicità."
Paintings: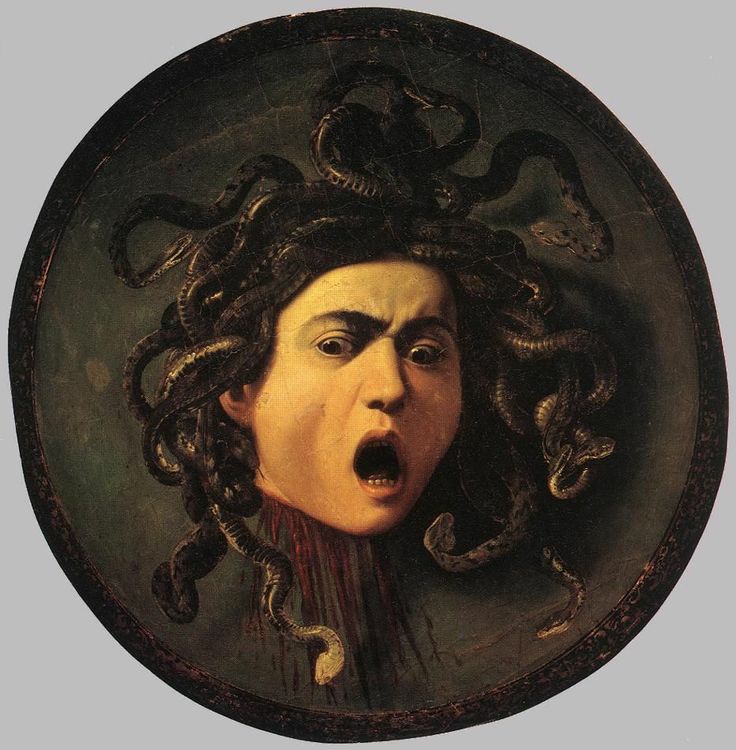 Michelangelo Merisi da Caravaggio, Medusa Head 1597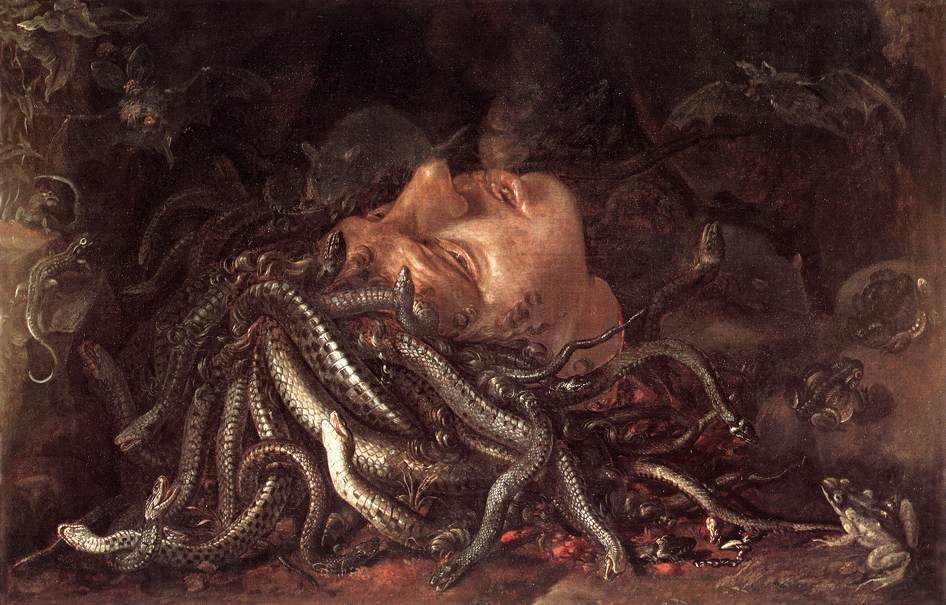 Medusa's Head, a Flemish painter, ca. 1600, Uffizi Gallery
Peter Paul Rubens, Head of Medusa 1617-18
Hans Toma, Medusa 1877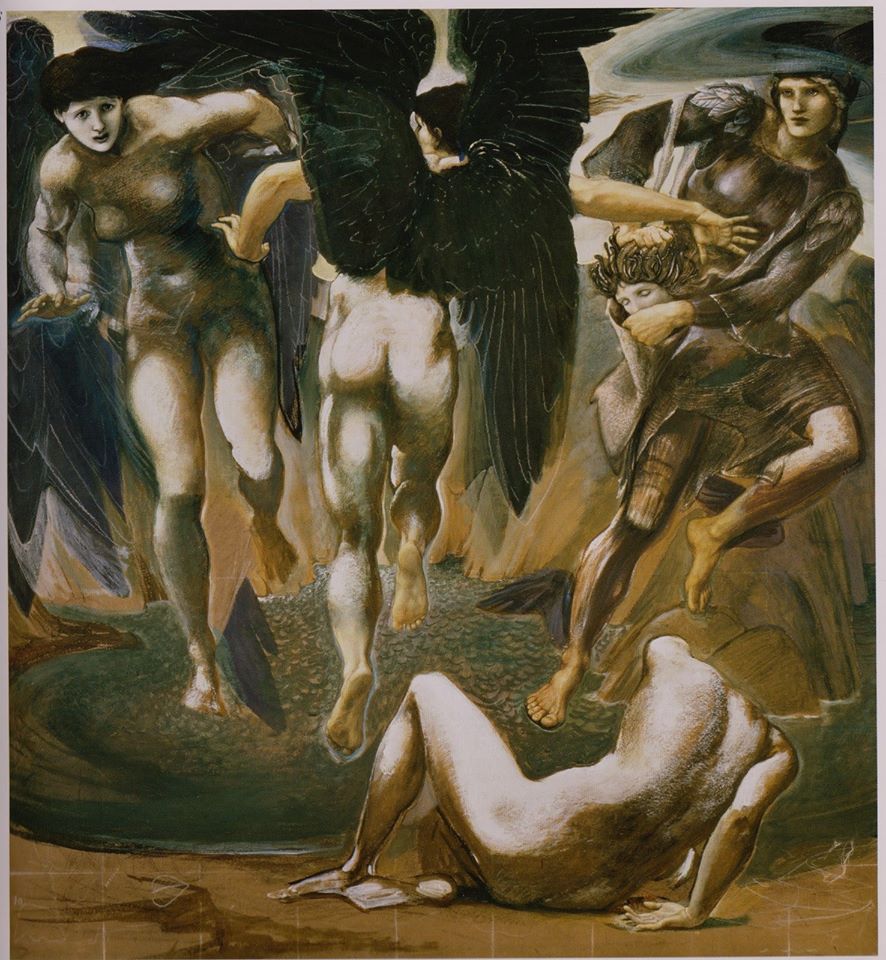 Edward Burne-Jones,Death of Medusa II, 1881
Medusa, Franz von Stuck, 1892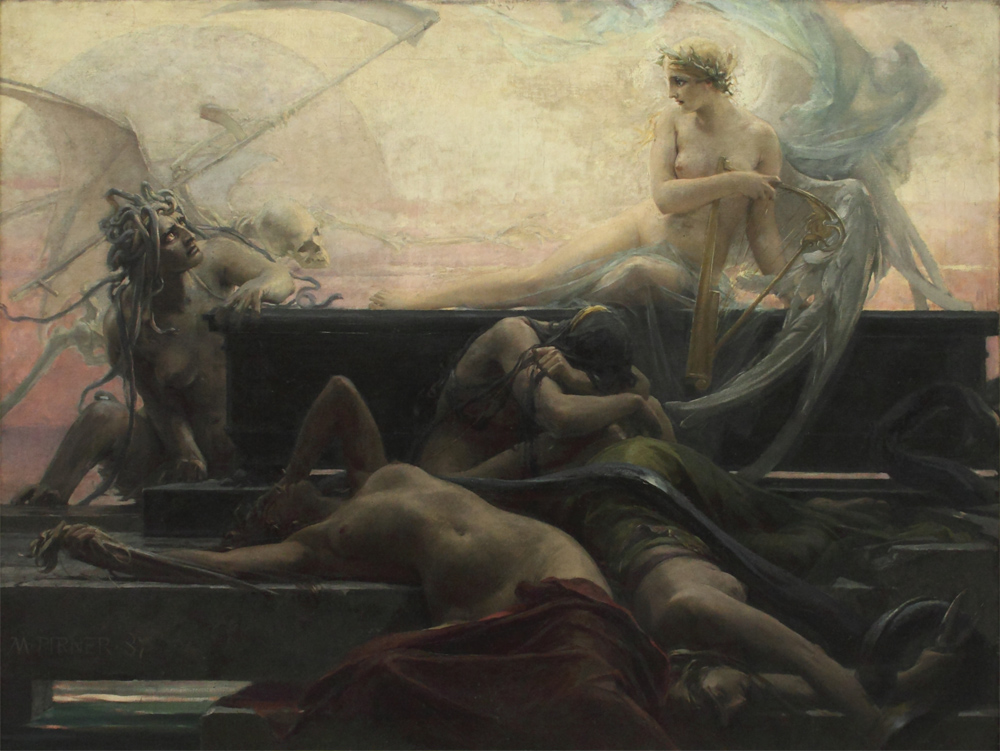 Maxmilian Pirner, Finis (The End of All Things), 1887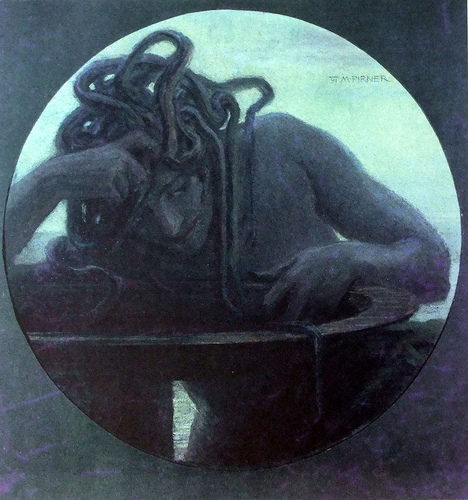 Maxmilian Pirner, Medusa, 1891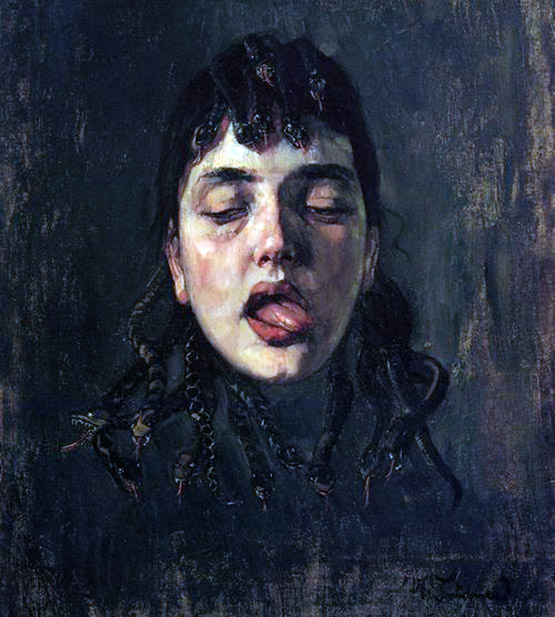 Wilhelm Trübner, Medusa head 1891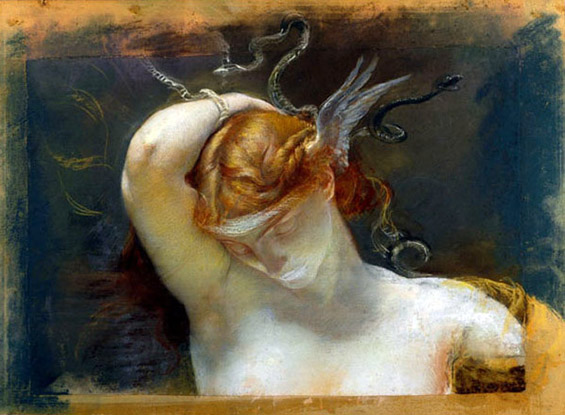 Giulio Aristide Sartorio, Studio per la testa della Gorgone 1895
Jacek Malczewski, Medusa (Meduza) , 1900
Alice Pike Barney, Medusa 1892. Smithsonian American Art Museum (United States)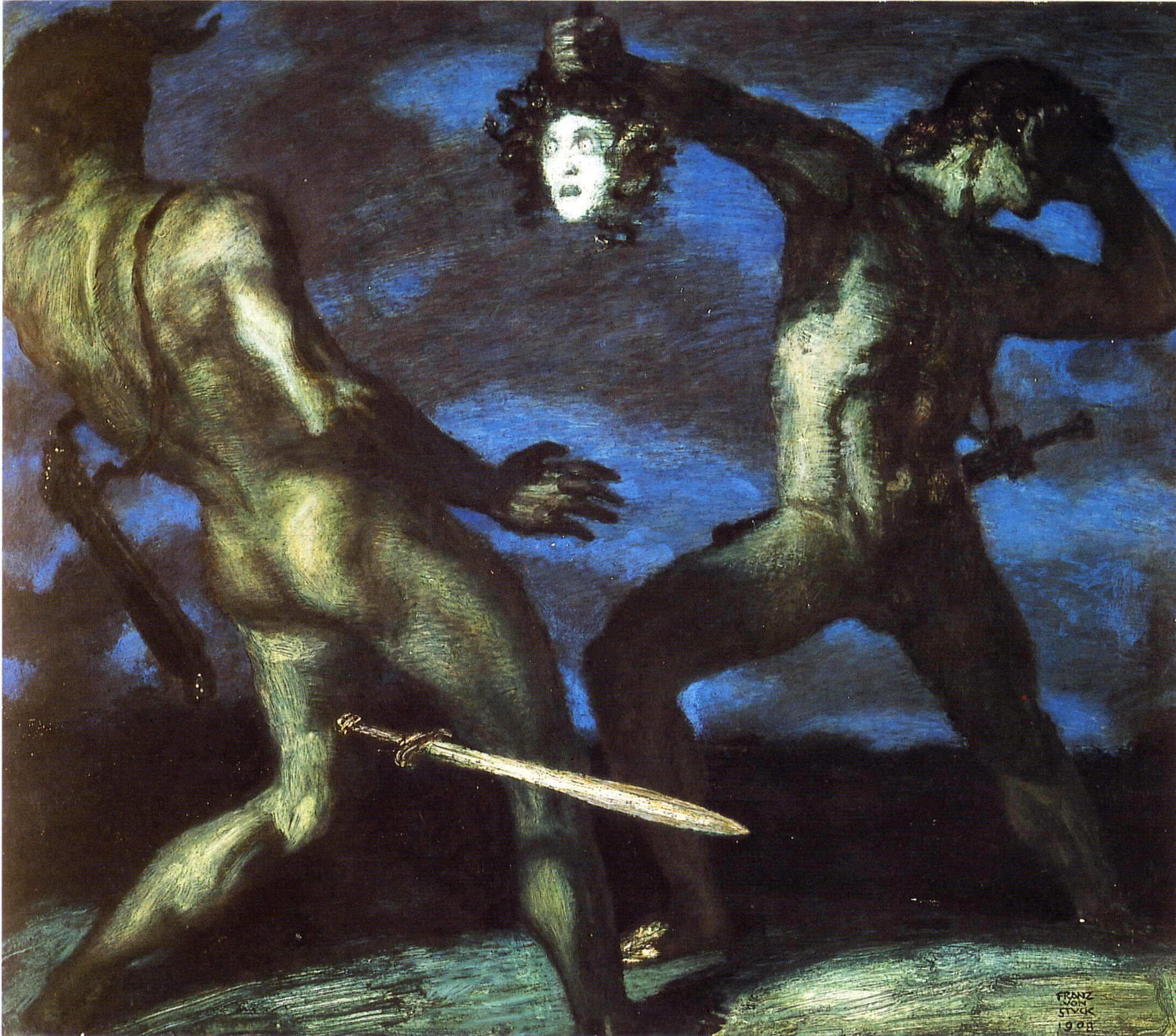 Medusa, Franz Von Stuck, 1908
Vasily Alexandrovich Kotarbinsky, Medusa (1903)
Wilhelm Kotarbinski, Kiss of Medusa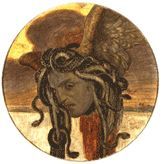 Galileo Chini (1873-1956) – Medusa, 1906 Affresco, cm. 56 ( By Ida Bertoni )
Acquistata all'Esposizione di Milano per il valico del Sempione (1906), l'opera testimonia l'adesione dell'autore alle poetiche simboliste.
Glauco Cambon, Medusa head 1919
Vedder Elihu, The Dead Medusa 1923
Agostino Arrivabene, Medusa 2014
Drawings, illustrations, engravings: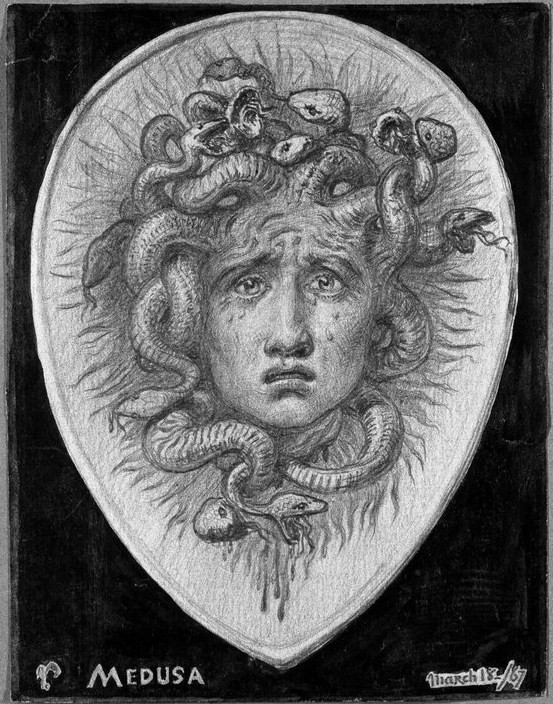 Elihu Vedder, Medusa 1867
Anthony Frederick Augustus Sandys, Head of Medusa 1875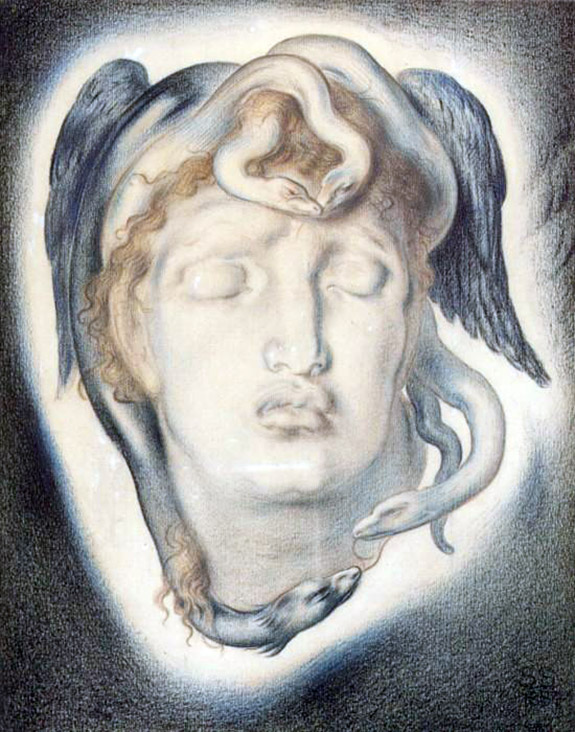 Simeon Solomon, The Head of Medusa 1884
Franz von Stuck, Medusa (date?)
Giuseppe Cellini, illustration for Isaotta Guttadauro Edictio Picta 1886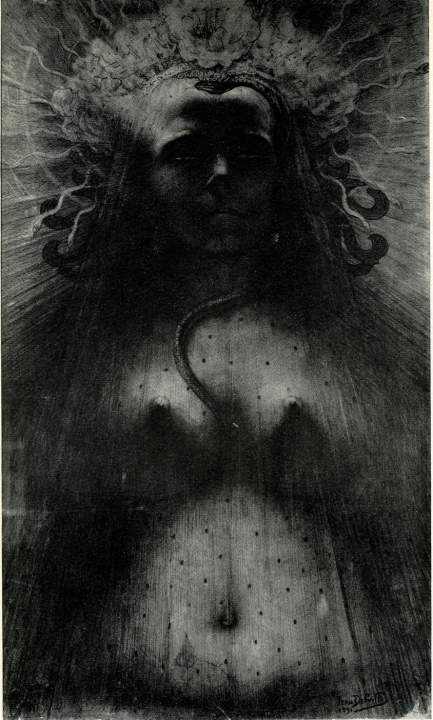 Jean Delville, The Evil of Perversity 1891
Jean Delville, La Méduse 1893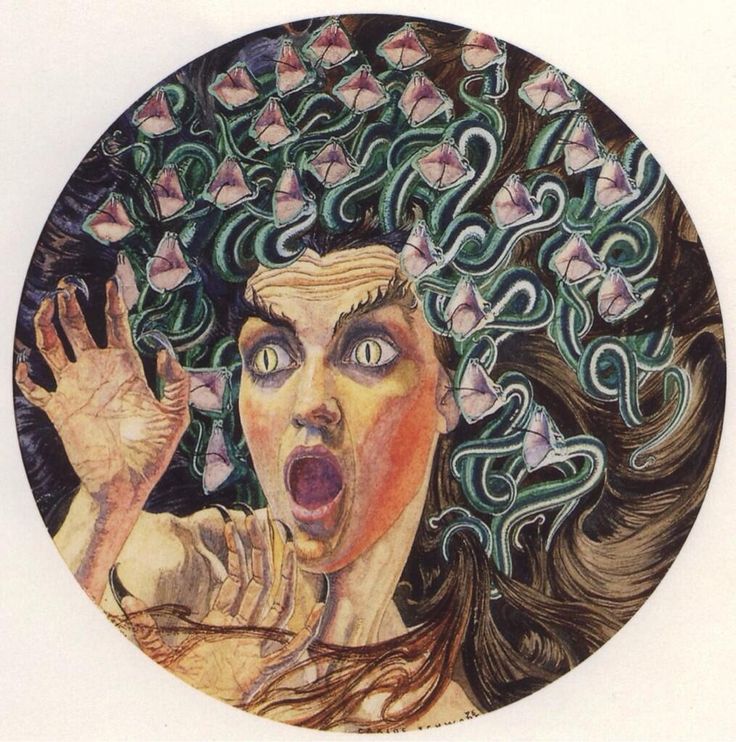 Carlos Schwabe, Medusa 1895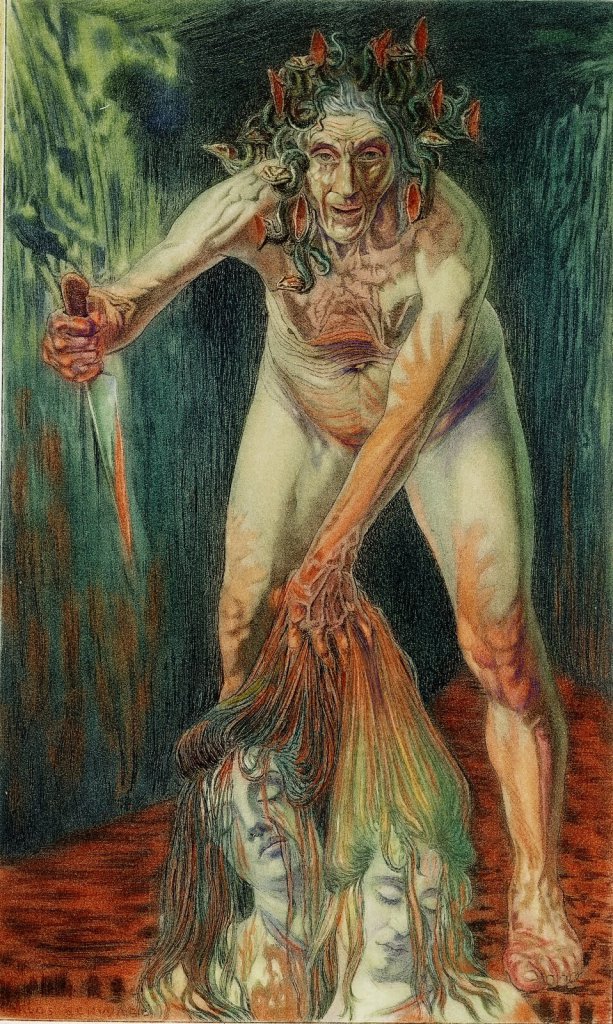 Carlos Schwabe from Les Fleurs du mal, Le tonneau de la haine 1900
Aubrey Beardsley, Perseus 1890's ?
Walter Crane, Perseus and the Gorgons 1890's ?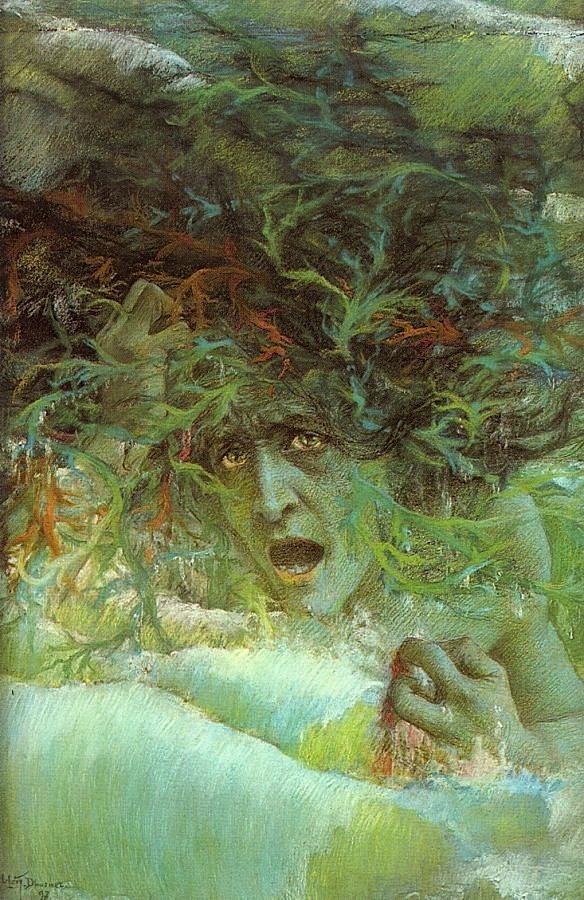 Lucien Lévy-Dhurmer, Méduse ou Vagues furieuses. Pastel, 1897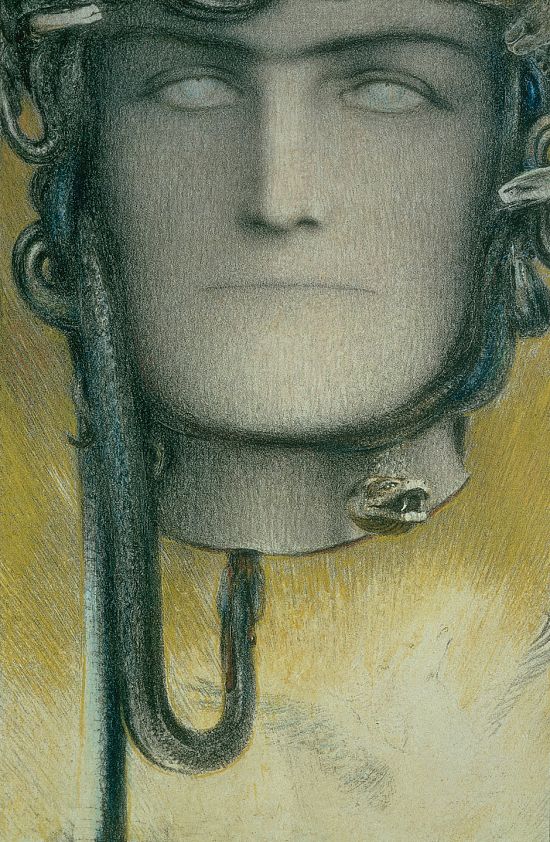 Fernand Khnopff, Le sang de la méduse 1898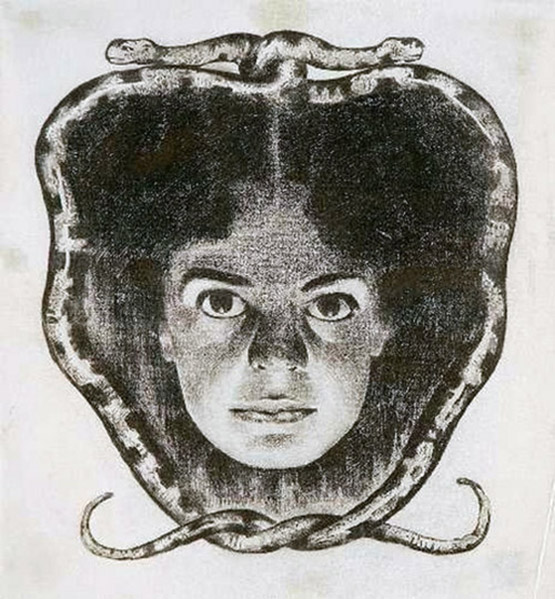 Rudolf Wünsch, Medusa head, 1898
Peter Behrens, Der Kuss 1898
René Lalique, Design for a headdress for Theodora, a role played by Sarah Bernhardt 1905
Franz Stassen, Kunst-Drucke zu Mappen-Werk "Götter", 1901
Gustav-Adolf Mossa, Temptation of Eve early years of 1900?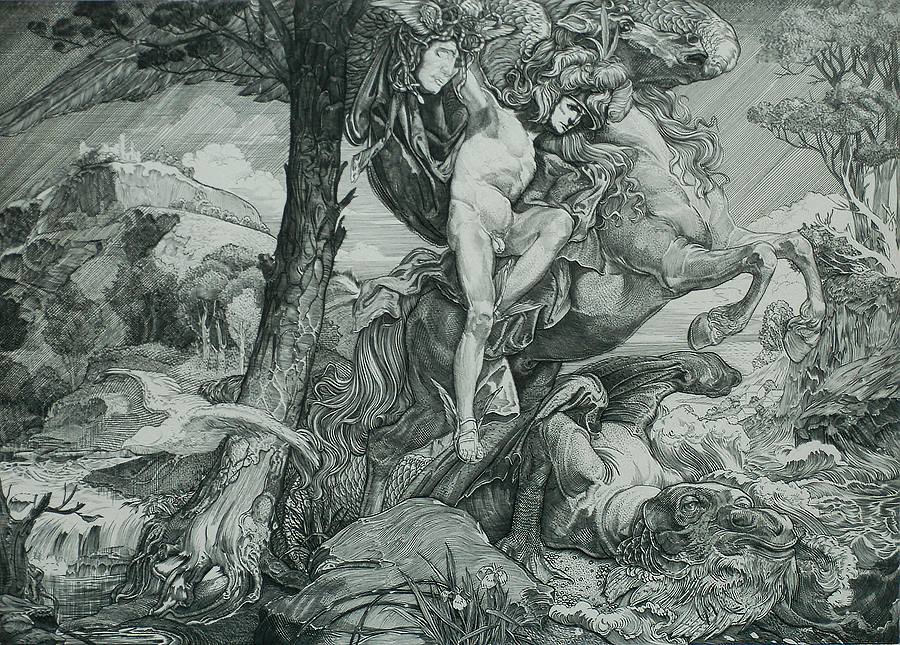 Johannes Aarts, Perseo con la testa di Medusa, 1904
Johannes Aarts, Perseus and Medusa head, 1900's
Aubrey Beardsley, illustrations from Salomé by Oscar Wilde 1907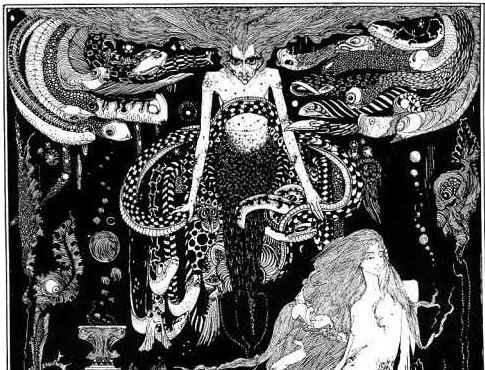 (detail) Harry Clarke, illustration for "The Little Mermaid", from The Fairy Tales of Hans Christian Andersen, 1916
Alois Kolb, Ex libris with Medusa date?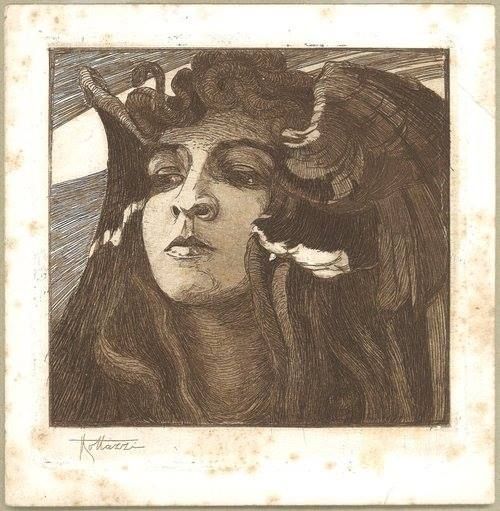 Umberto Bottazzi, Medusa date?
Raul dal Molin Ferenzona, La goccia di veleno 1917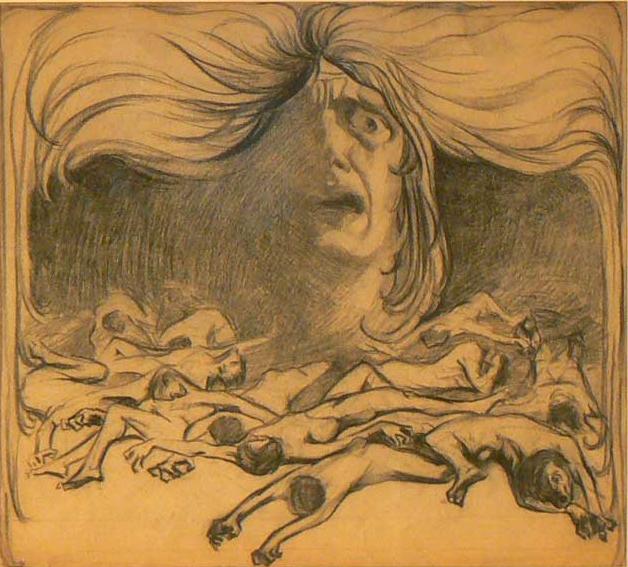 Alberto Martini, Medusa date?
Alberto Martini, Marchesa Casati as Medusa 1927
Virgil Finlay, Medusa 1934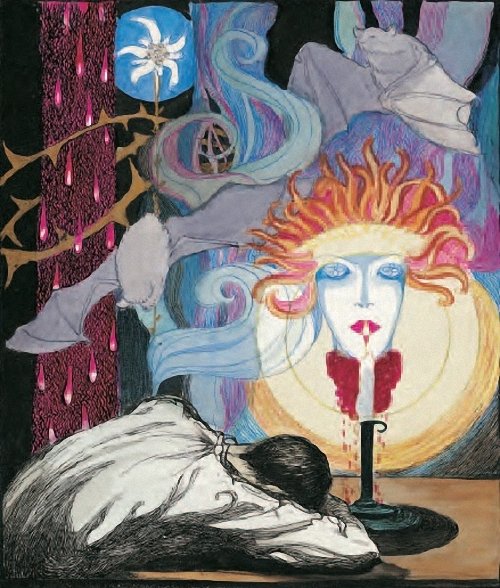 Jeanne Mammen, Man and Medusa 1920's
Medusa, Nikolai Konstantin Kalmakoff 1924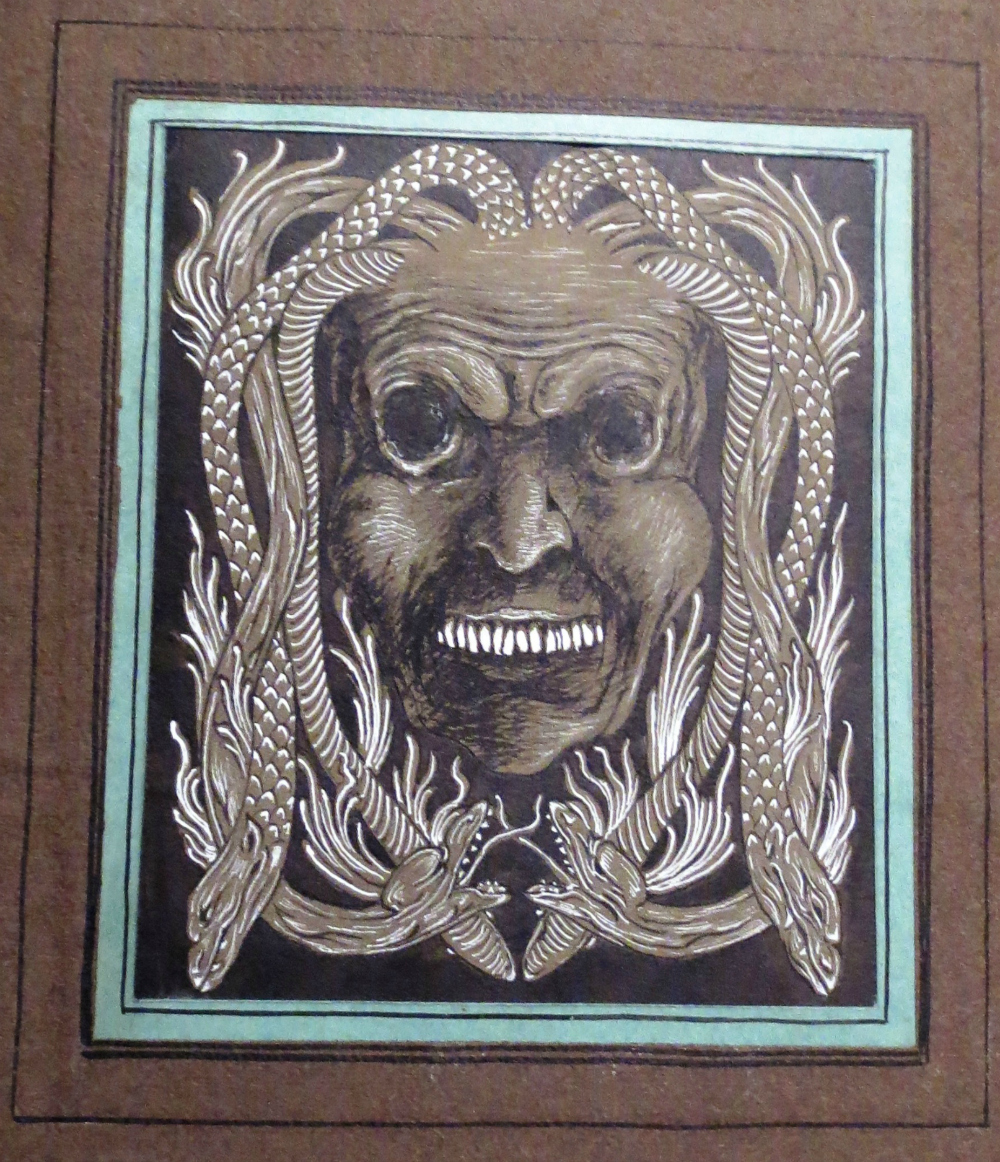 Nikolai Konstantin Kalmakoff, Self-portrait as Gorgona Medusa, signed with artist's monogram low right
Aldo Ajò, Medusa . Matita su carta, 1925, firmato sul verso Ajò Collezione Museo Rubboli
Sergius Hruby, 1933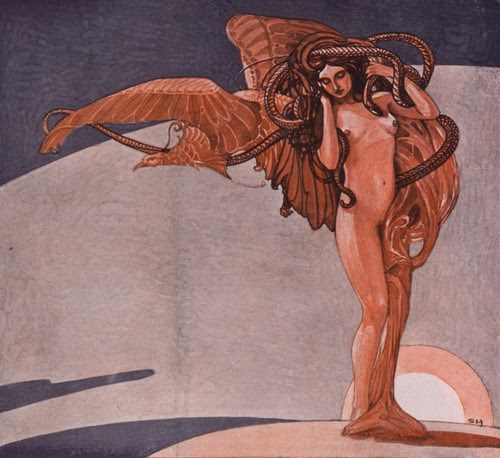 Sergius Hruby, 1930's
Dario Wolf, Medusa 1958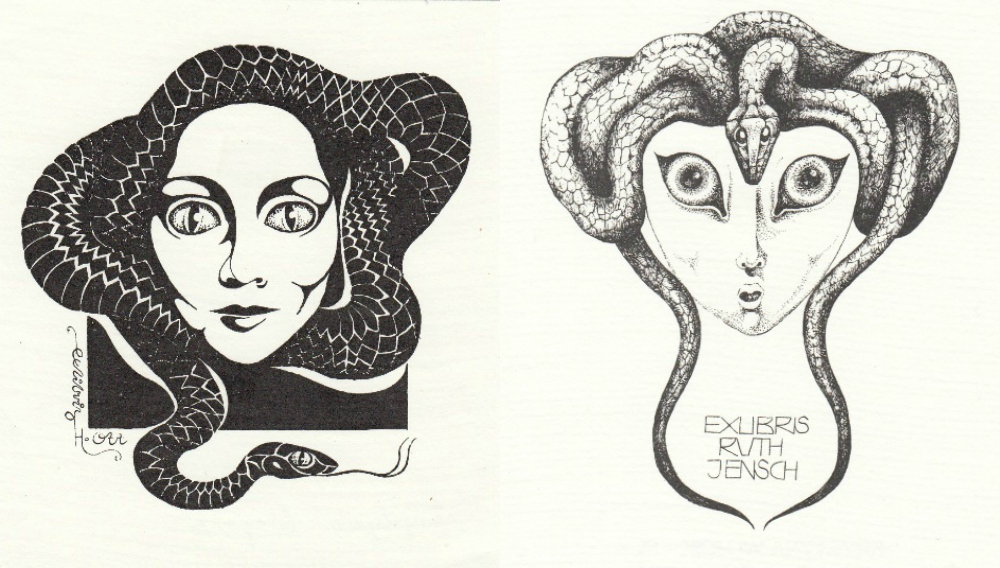 Krystyna Wojcik, 1988
Daniel Barkley, Conspiracy of Monsters
Covers, posters, advertisings, illustrations:
Basilio Cascella, Divina Commedia poster, 1904
Ezio Anichini, illustration cover for Scena Illustrata
Postcard with Lina Cavalieri, 1900 ca.
B. Patella, Smoking Lady Postcard, 1900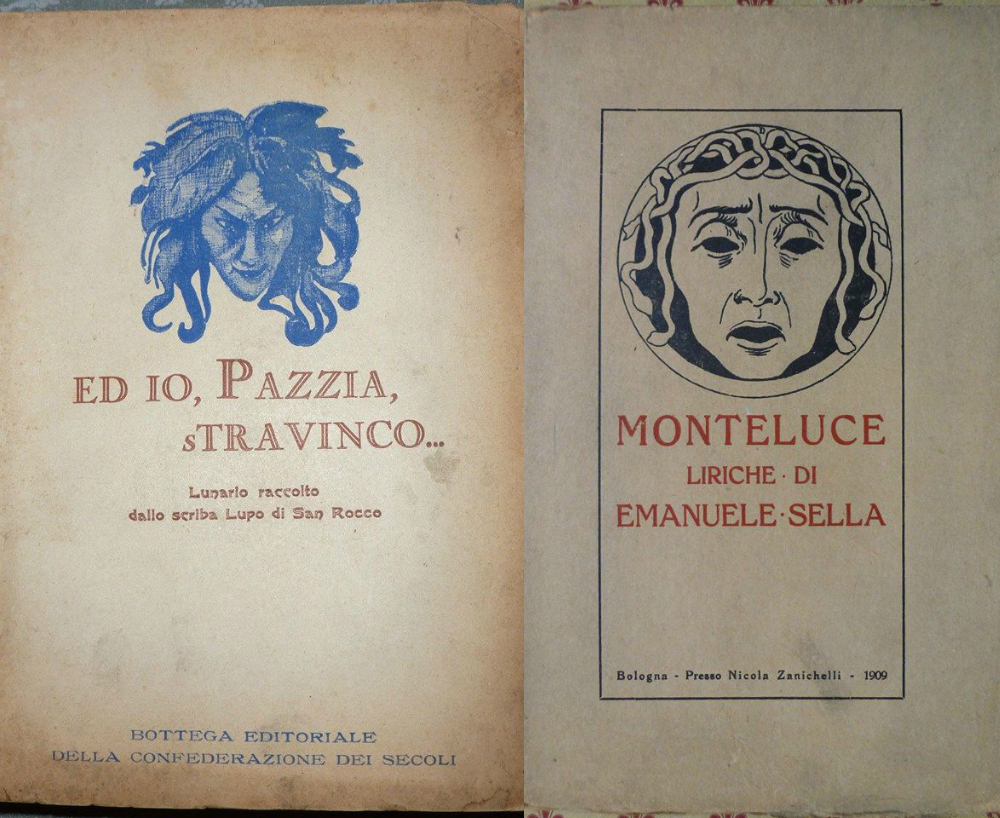 Frontespizi libri italiani primi del '900
Alla Divina Elenora Duse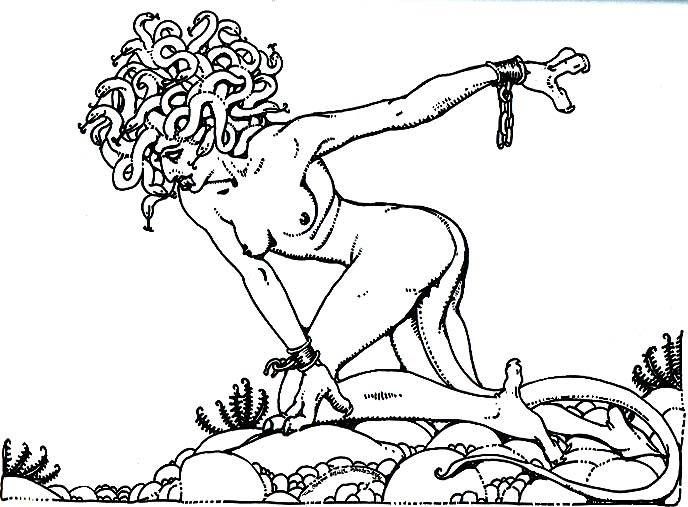 Mahlon Blaine (1894–1969) Vignette for Alraune by Hanns Heinz Ewers (1871-1943)
Leyendecker's version of Medusa for Mc Clure's magazine 1910
Rome Italian Teachers General Union (14 Each drawing is made by a different illustrator) 1915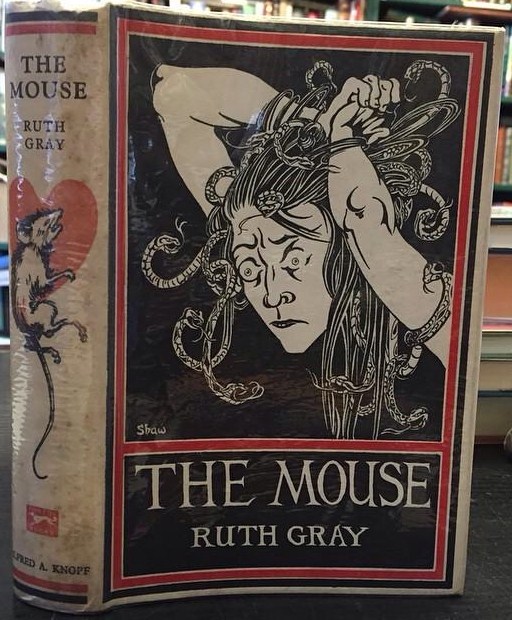 The Mouse by Ruth Gray (A A Knopf, 1929: London
Jean Ray Malpertius cover 1943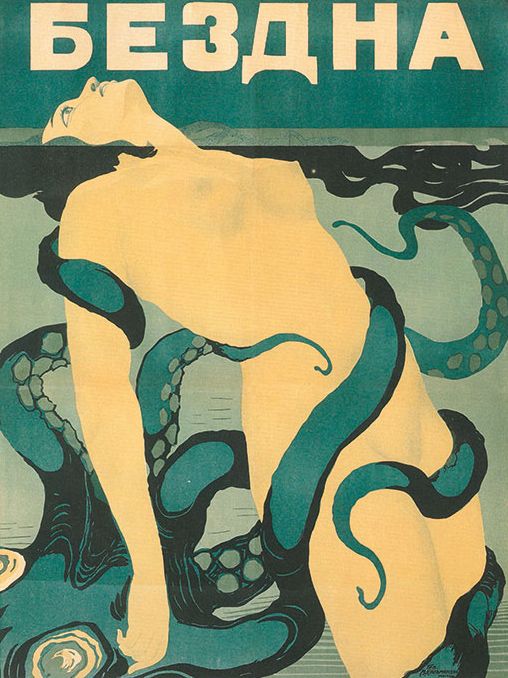 ?
Possession film poster, 1981
Sculptures, jewels: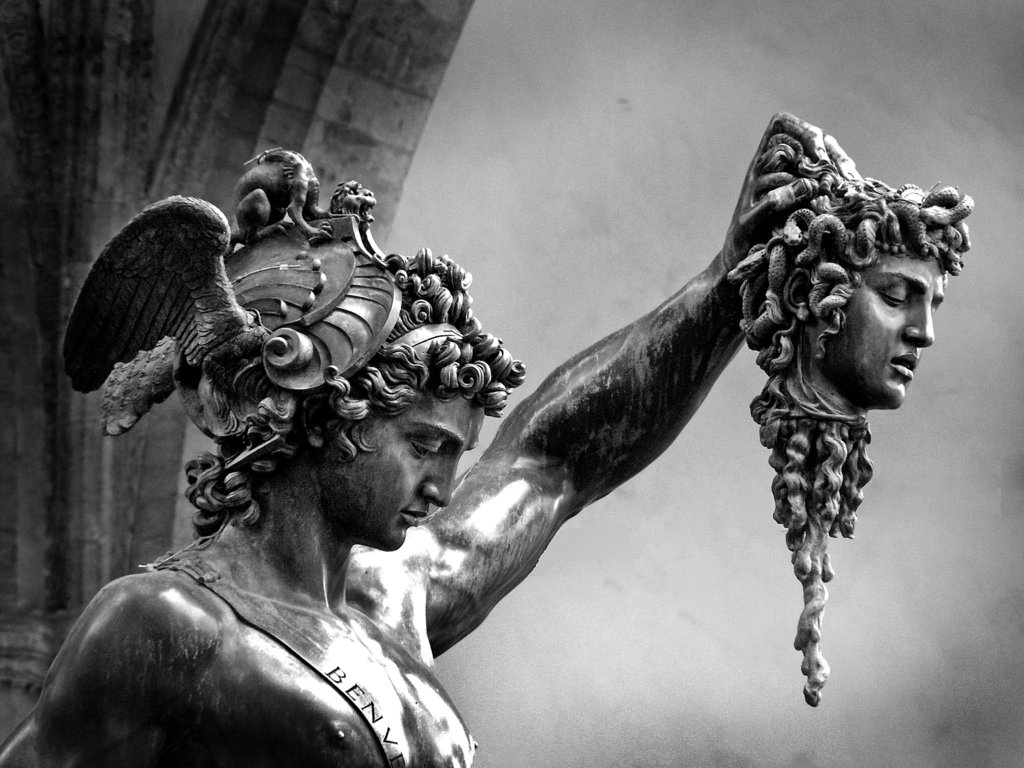 Benvenuto Cellini, Perseo with Medusa head 1550's
Gian Lorenzo Bernini, Medusa 1644-48. Conservators' Apartment inside Musei Capitolini, Roma
Funeral Monument at Santa Maria Maggiore church in Rome, date ?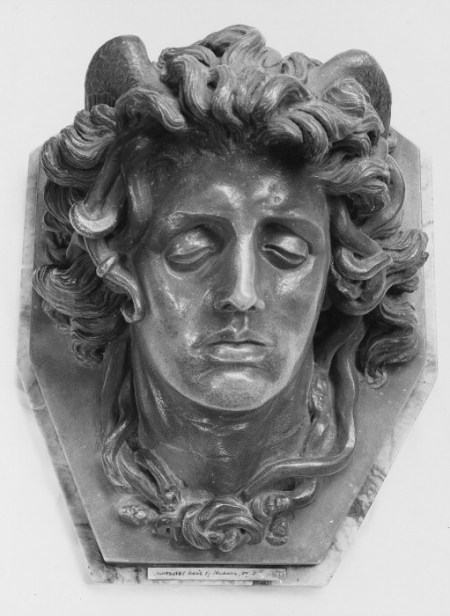 G.F. Watts, Head of Medusa, 1870's ?
Prosper d'Epinay, Head of Medusa, c. 1866
Perseus Slaying Medusa by Laurent-Honoré Marqueste, France, 1876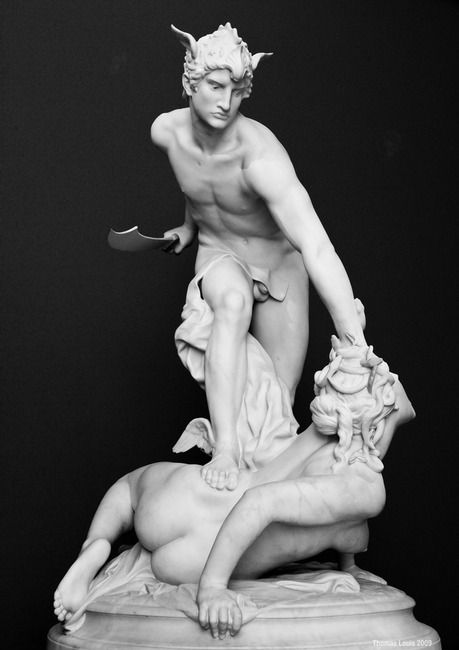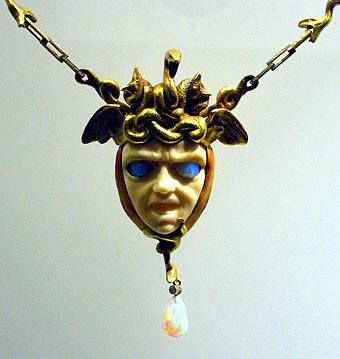 Philippe Wolfers, Medusa 1898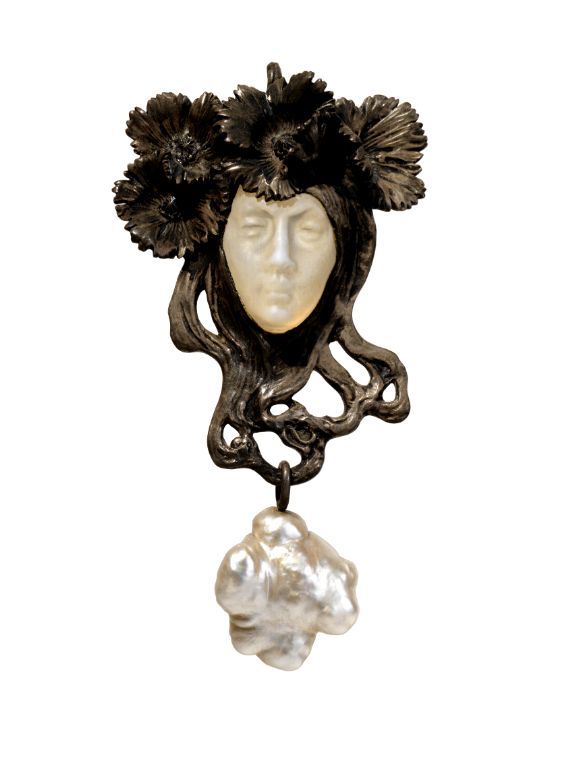 René Lalique, Female face pendant. Glass, silver, enamel, gold and baroque pearl. France, ca. 1898-1900.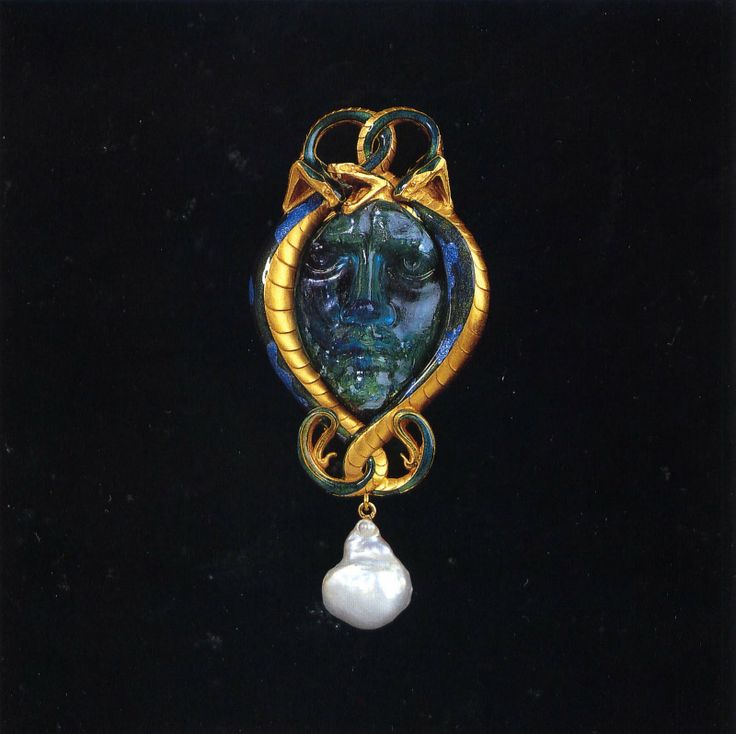 René Lalique, Medusa and Serpent Brooch: enamel, glass, and pearl brooch, 1895 (Elizabeth Taylor Estate)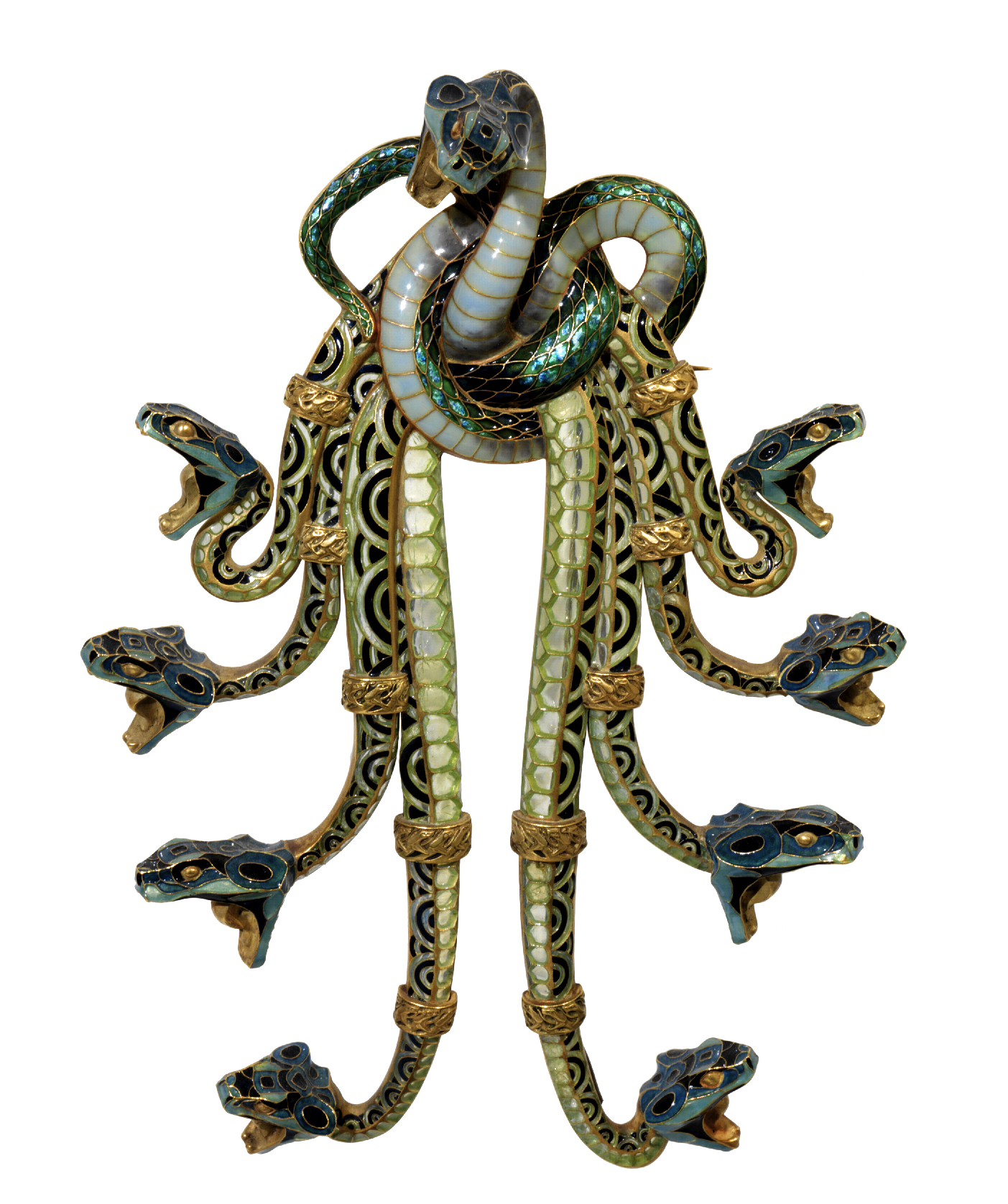 René Lalique, Orientalism Medusa Brooch 1898-1899
Medusa delle Vetrate Artistiche G. Beltrami di Milano , opera presentata nel 1902 all'Esposizione di Arte Decorativa Moderna di Torino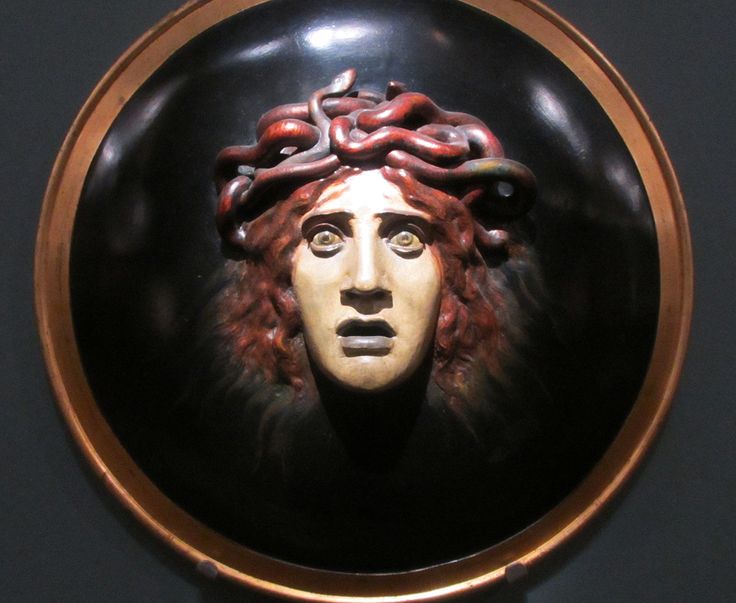 Arnold Böcklin, Bouclier avec le visage de Méduse 1897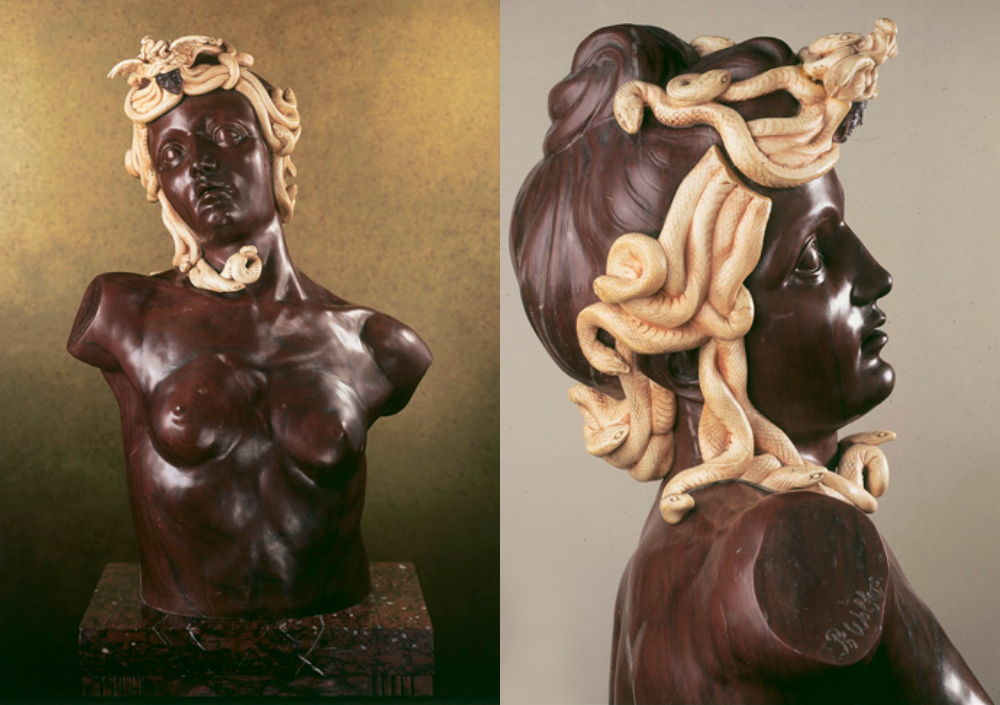 Phillipe Wolfers, Maleficia 1898
Giorgio Ceragioli (1861-1947), Medusa date?
Medusa at Enrico Colombotto Rosso house museum, author ?
picture by thenautilus.it
René Lalique, Ivory and bronze Medusa paperweight, c.1902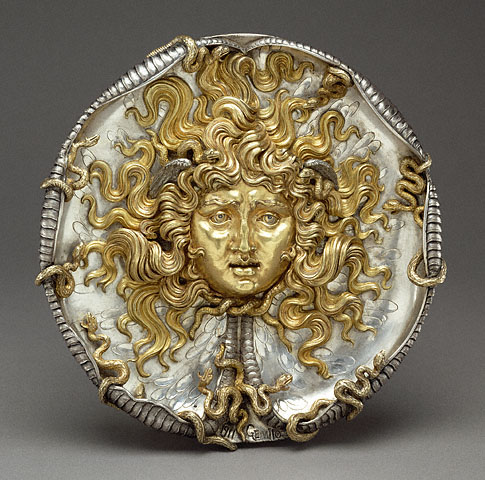 Medusa, Vincenzo Gemito, 1911
Manifattura Italia meridionale. Bracciale "Medusa", inizio XX secolo Oro giallo (Collezione Carlo Eleuteri)
Paul Dardé, Eternal Pain, 1913
Adolfo Wildt, Medusa Mask 1910
Giorgio Kienerk, Medusa date?
Libero Andreotti, Gorgone, 1911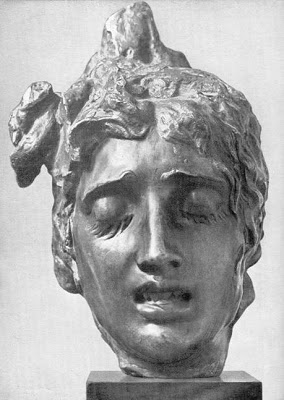 Alajos Stróbl, Head of Medusa, c. 1920
Hungarian National Gallery, Budapest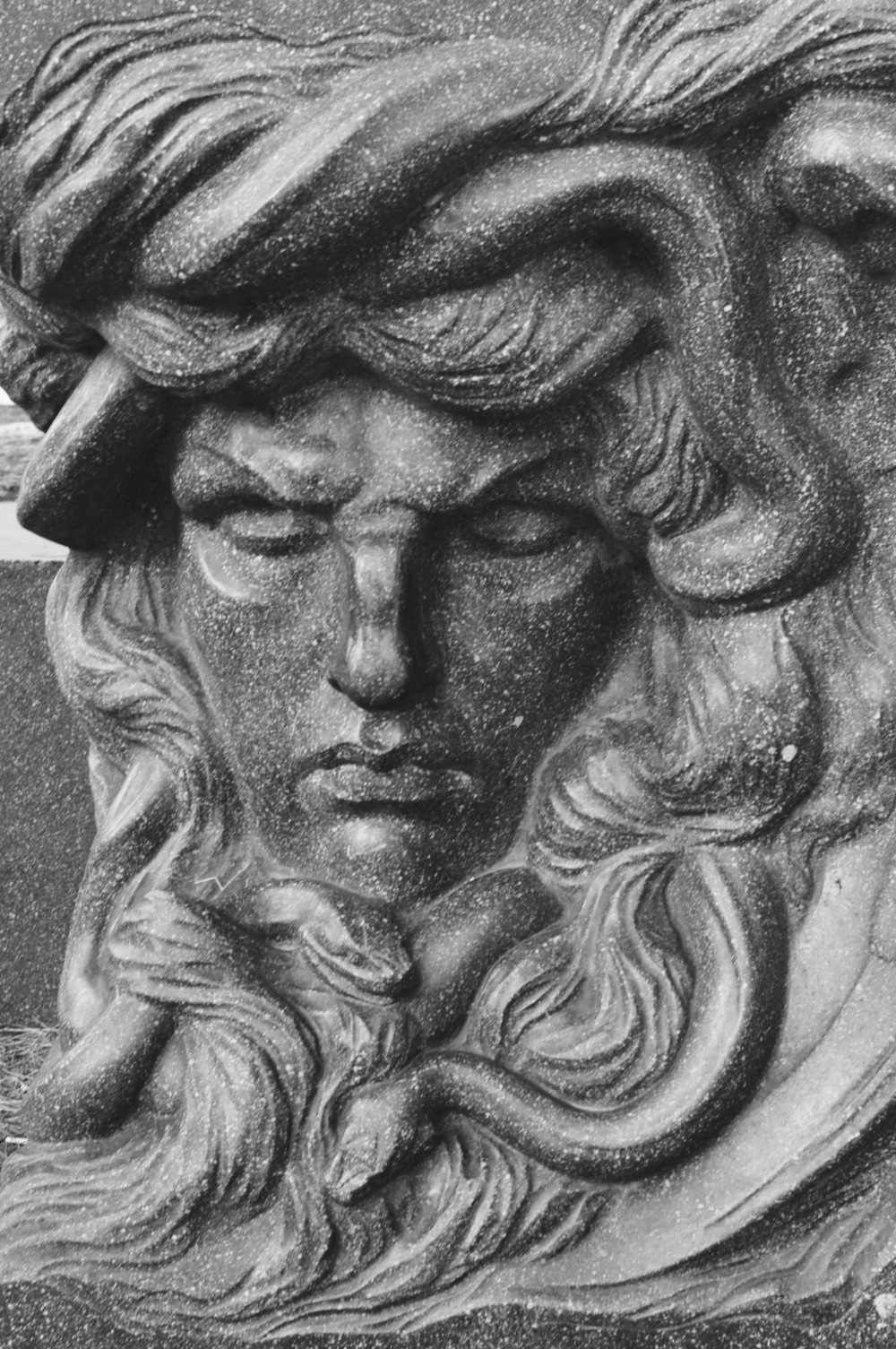 Edoardo Rubino, Medusa for the monument dedicated to Umberto I in Villa Borghese, Roma 1914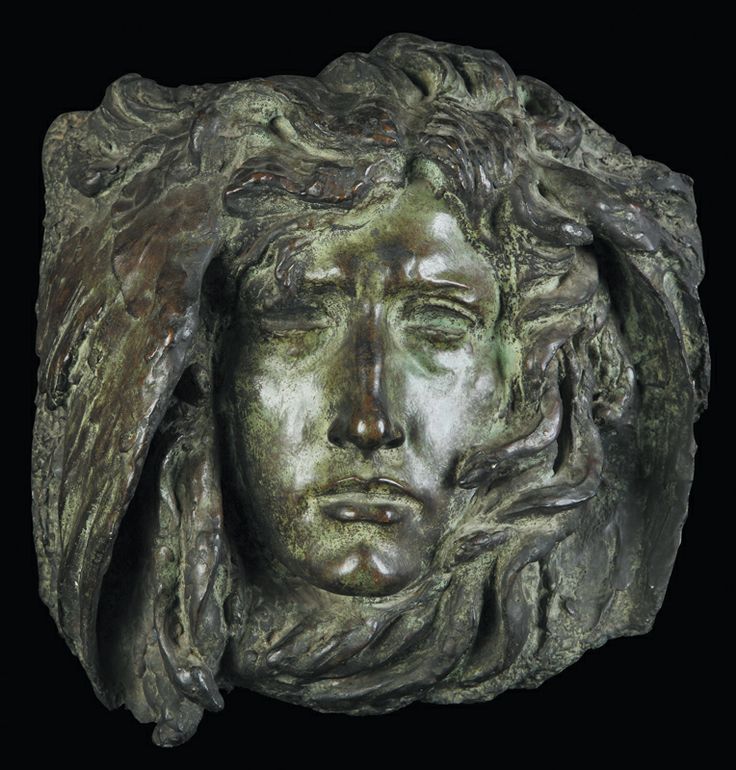 Edoardo Rubino, Maschera di Medusa, bronzo, 1922
Duilio Cambellotti, Testa di Gorgone 1922
Ferruccio Mengaroni, Medusa 1925
Domenico Baccarini, Day and Night 1903
I found a resemblance in this vase I saw at Maxim's in Paris
Verdura and Salvador Dali's Medusa collaboration: a gold, morganite and ruby brooch framing a miniature painting of Medusa, 1941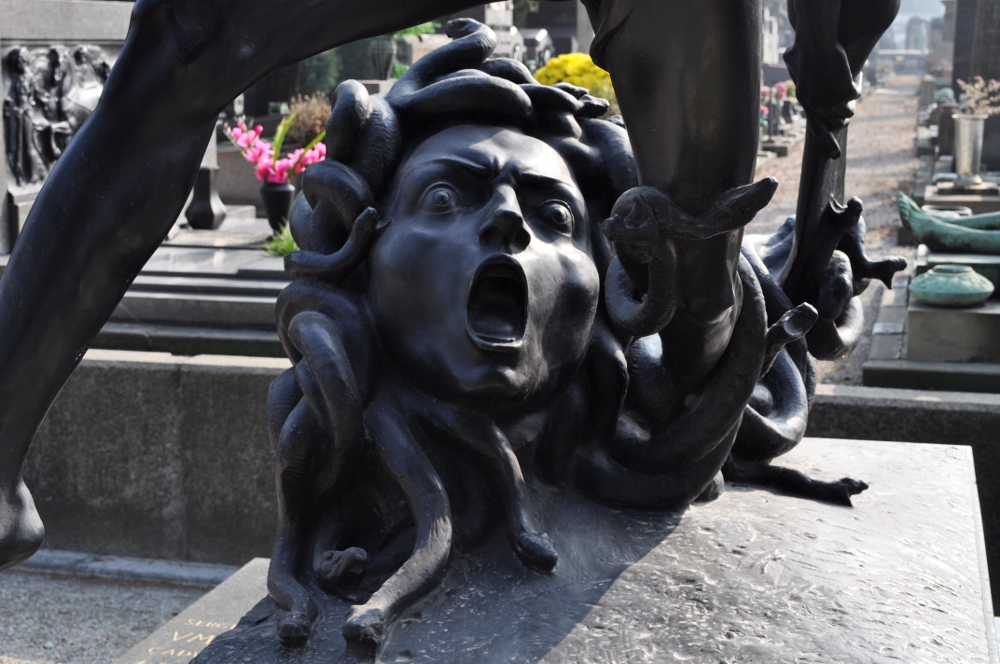 Tomba di Umberto Fabé by Enrico Pancera 1940's at Cimitero Monumentale Milano
Audrey Flack, Medusa 1989
Audrey Flack, Medusa 1980's ?
Livio Scarpella, Medusa, 2015
Photography, performers, costumes:
Marchesa Luisa Casati with one of her snakes at a Beaumont ball in Paris, 1920's
Mary Noland in a serpent costume by Erte`1920's
Graziela Iturbide (born 1942), Self portrait with snakes
?

Medusa headdress worn by actress Ursula Thiess, photo by Regina Relang,1949
Martha Stewart as Medusa 1980's ?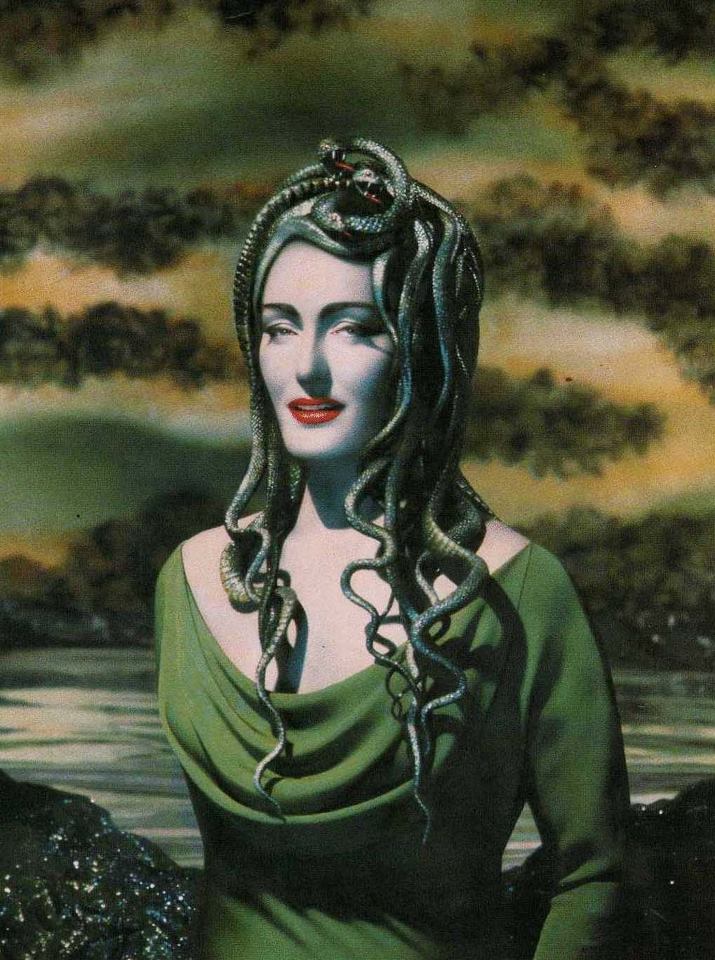 Medusa by Pierre and Jilles, 1990's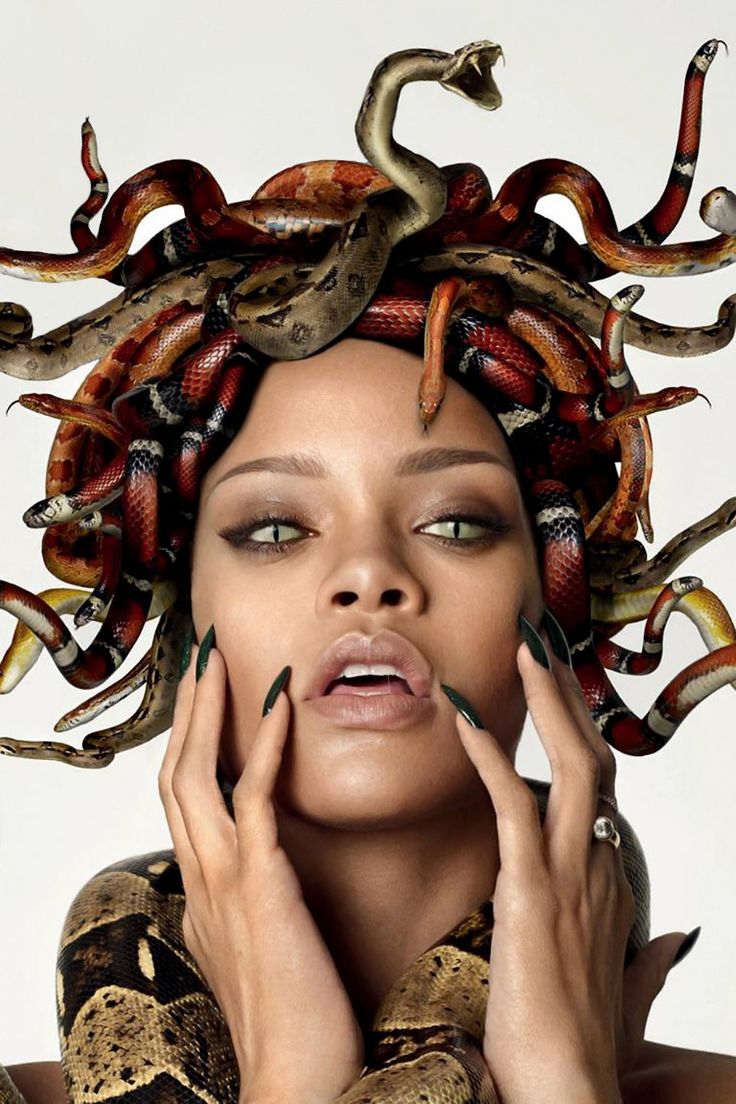 Rihanna on GQ Magazine, 2013