by Johannes Isaac Hollandus sources: Deutsche Fotothek
Hand of the Mysteries
Also known as The Hand of the Philosopher, or The Hand of the Master Mason, it holds in signs and symbols the secrets of the Art Alchemia and nobody can understand this hand, unless he becomes first a juror of the philosophers. It is covered with alchemical and allegorical symbols and icons that each carry their own meaning.  Each symbol is a key to a higher truth, reading these symbols would help the Alchimist/Philosopher to find the Philosopher's Stone. Understanding the symbols was a key to reaching Divine Power.
Thumb: Crown next to the moon, one quarter old. By this is meant saltpetre. For just as the thumb vigorously finishes off the hand, saltpeter does in the Art Alchemia, for he is the King and Lord of all salts.
Index: Star with six points. It is compared to Roman Vitriolo, because no work that is to be perfect can be completed without vitriol.
Middle Finger: the Sun. By it, Sal Ammoniacum is designated, for apart from saltpeter and vitriol, no thing more powerful is found than that.
Ring finger: the Lantern, whereby Alum Roche is indicated; for without alum, no perfect work can be accomplished, because it is required for the Red and the White. It has an astonishing nature and the most subtle Spiritus.
Little finger: Key of the philosophers. It is the lock of the hand, that is why the key is standing on it. By it, common salt is designated, for salt is the Key in this Art.
Middle of the hand: the Fish. Signifies Mercury, for without Mercury, or the fish, nothing can be done. He is the beginning, the middle and the end, and he is the priest who must marry everything. And he is the male and the seed; he is the water out of which all metals have originated; and he is the principal (factor) of all Arts.
The Palm: the Fire. By this Sulphur is indicated, it is the earth and beginning of all metals. It is the female who brings forth the fruit. For no seed can grow unless it be first thrown into fertile soil. Then beautiful fruit will come from it. Thus it also happens that when a pure Mercury is joined to a pure Sulphur, it brings forth pure fruit. Thus, they are man and woman, father and mother, fire and water, seed and earth.
***
La mano dei misteri
La Mano dei Misteri o Mano del Filosofo o Mano del Gran Maestro racchiude in segni e simboli i segreti dell'Arte Alchemica e nessuno può comprenderli a meno ché non giuri fedeltà al Filosofo. E' coperta da simboli alchemici e allegorici ognuno dei quali ha un suo significato. Ogni simbolo è una chiave per una conoscenza superiore, saper leggere questi simboli avrebbe aiutato l'Alchimista/Filosofo a trovare la Pietra Filosofale. Comprendere i simboli significa raggiungere il Potere Divino.
Pollice: Corona con un quarto di luna. Con questo simbolo si indica il nitrato di potassio. Come il pollice conclude la mano così fa il salnitro nell'alchimia poiché è re di tutti i sali.
Indice: Stella con sei punte. Indica il solfato di ferro e nessun opera può essere completata senza il solfato di ferro.
Medio: il Sole. Indica il sale ammoniaco e, dopo il salnitro e il solfato di ferro, non c'è cosa più potente.
Anulare: la Lanterna. Indica l'allume di rocca poiché senza questo nessuna opera può essere completata perché è necessaria sia per la Rossa sia per la Bianca (fase).
Mignolo: Chiave del Filosofo. E' la chiusura della mano e per questo ha come simbolo la chiave. Indica il sale comune poiché il sale è la chiave in questa arte.
Metà della mano: Il pesce. Indica il mercurio perché senza mercurio-pesce niente può essere fatto. E' l'inizio, il mezzo e la fine ed è il sacerdote che sposa ogni cosa. E' l'elemento maschile e il Seme, è l'acqua da cui ogni metallo ha origine ed è il principale elemento di tutte le arti.
Palmo: Fuoco. Indica lo zolfo e la terra e la nascita di tutti i metalli. E' l'elemento femminile che dà energia al frutto, poiché nessun seme può crescere se non è stato piantato in un terreno fertile, solo allora un magnifico frutto potrà crescere dal seme. Accade la stessa cosa quando puro Mercurio è unito a puro Zolfo, dà forza al puro frutto. Infatti sono come l'uomo e la donna, il padre e la madre, l'acqua e il fuoco, il seme e la terra.
according to Johan Isaac Hollandus "The Hand of the Philosophers", sources: rexresearch.com
Hand tattoo by Guy le tatooer
(AKA Berlin akaberlin.blogspot.com)
The All-Powerful Hand or The Five Persons, Anonymous (Mexico) 19th century
Figure of hand from "Compendium rarissimum totius Artis Magicae sistematisatae per celeberrimos Artis hujus Magistros", circa 1775
Sources: Wellcome Library,  images.wellcome.ac.uk
unknown from tumblr
Mystères de la Main: Révélations Complètes
(Chiromancie, Phrénologie, Graphologie et Études Physiologiques by Ad Desbarrolles)
Illustration of mechanical hand, 1564
from "Instrumenta chyrurgiae et icones anathomicae" by Ambroise Paré
Sources: Wellcome Library,  images.wellcome.ac.uk
unknown
unknown
Anonymous hand coloured Netherlandish woodcut from 1466
showing the hand as a 'Mirror of Salvation' ,using the five fingers as a kind of mnemonic for the stages of spiritual meditation.
Sources:intothehermitage.blogspot.com
Self-portrait of his right hand by Henrik Goltzius (1558-1617)
Sources: wikipedia.com
Amputation of fingers from "Traité complet de l'anatomie de l'homme" (1831-1854)
Sources: black-hands.tumblr.com
unknown from tumblr
Chirologia
or The Naturall Langvage Of The Hand by John Bulwer (1648-1654)
John Bulwer was an english physician who wrote five works exploring the body and human communication, particularly by gesture. He was the first person in England to propose educating deaf people. His Chirologia (from greek χείρ "hand" and λόγος "speech") is one of the first English books on deafness and the education of deaf-mutes.
It's a manual of expression and a guide to manual gesture, illustrating and cataloguing the "natural" logic of bodily expression. At the same time, the book offers itself up for an alternative form of use as a system of cryptography, in that the same gestures can "serve for privy ciphers for any secret intimation.
***
Chirologia: Il linguaggio naturale della mano.
John Bulwer fu un fisico inglese che scrisse cinque trattati sulla comunicazione umana e il linguaggio del corpo, in particolare sulla gestualità. Fu la prima persona in Inghilterra a proporre un insegnamento per le persone sorde. La sua Chirologia (dal greco χείρ "mano" e λόγος "discorso") fu uno dei primi libri sulla sordità e sull'educazione dei sordi-muti.
E' un manuale di espressione e di gestualità delle mani che illustra e elenca la logica naturale del linguaggio del corpo. Allo stesso tempo il libro offre anche una l'alternativa di usare questo linguaggio in maniera crittografata poiché quegli stessi gesti potrebbero servire per messaggi cifrati privati o per qualsiasi altro segreto.
Sources: wikipedia.com; lib.uchicago.edu
Chirologia: Or The Natvrall Langvage Of The Hand by John Bulwer (1648-1654)
Marlene Dietrich as a chiromancer in "Touch of Evil" by Orson Welles 1958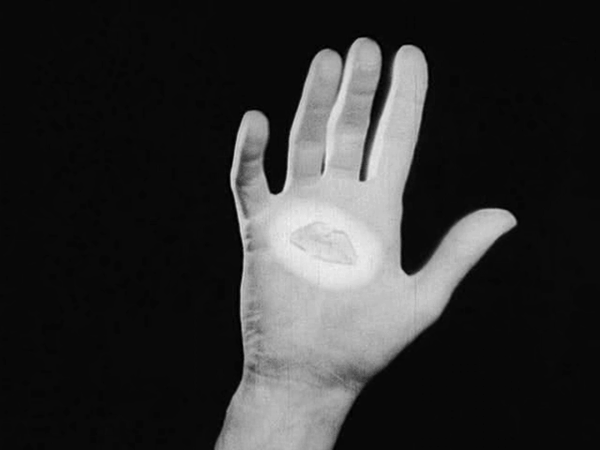 Jean Cocteau, Le Sang d'un Poete (The Blood of a Poet) 1930
unknown from tumblr
Astrology Hand (UO) via fashionsquad
Francesco Clemente, Hand (?)
Pamela Love hands
Madonna hands in "Frozen" video
Abbey Lee owl tattoo
André Breton Nadja bookcover
Salvator mundi, Antonello da Messina 1465-75