Inachis io in Buddleja davidii, D. Hirst 2009-2010
"What the caterpillar calls the end, the rest of the world calls a butterfly." Lao Tzu
Butterfly is a symbol of Vanitas, of ephemeral beauty.
Ephemeral comes from greek επί "in/on" and ημέρα "daytime" that is to say something that lasts only for a day. There is also a kind of butterfly called Ephemeroptera whose adults live from a few minutes to a few days (depending on the species).
Their life is a metamorphosis and it begins from death; their superfluous beauty hides the waiting for death.
Butterflies appear also in the last Damien Hirst exhibition, displayed at Gagosian Gallery in Hong Kong. He had already used butterflies for his "Butterfly Paintings", tableaux of actual butterflies suspended in paint.
"For Hirst, the butterfly is a symbol of the beauty and fragility of life. Close-up images of butterflies, sourced from science libraries, are painted in oil with painstaking attention to realistic detail. "Why else would you do it, when you could just get a photograph that looks identical?" Hirst has said. "But it's not the same thing, is it? A photograph is from a moment, a split second. Painting is about stopping to look at the world, considering it, and giving it more and more importance."
info e pics via gagosiangallery
Heliconius charithonia in Tagetes, D. Hirst 2009-2010
Lycaena phlaeas, D. Hirst 2009-2010
Butterfly Sculpture, Rebecca Horn, 2000
Nabokov's Butterflies collection
Woman Butterfly Owl, Alberto Martini 1907
Butterfly Habitat, Joseph Cornell 1940
Butterfly, Escher
Max Ernst collage from La femme 100 têtes 1929
The Butterfly Man, Peter Blake 2010
The Butterfly man, Peter Blake 2010
(displayed at "Venice Suite" exhibition. Michela Rizzo Gallery, Venice, 2010)
Electric Chair with Butterflies, Bertozzi&Casoni 2010
(displayed at "2 electric chairs" exhibition with Luigi Ontani. Mic, Faeza, 2010)
Evocation of Butterfly, Odilon Redon 1910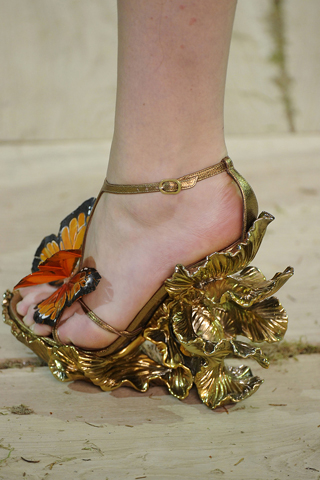 Alexander McQueen, Spring/Summer 2011
Bjorg Caged Wing Necklace